Gold And 925 Silver Rings With Sapphire Gemstones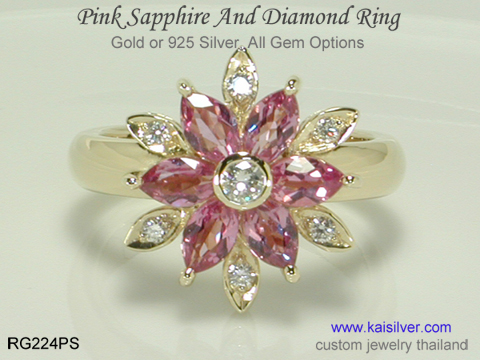 Sapphire gemstone rings have a universal appeal, gender, age or religion are irrelevant when it comes to buying or wearing a sapphire ring. Kaisilver custom sapphire rings are available in gold and 925 sterling silver. Choosing a sapphire ring can be a time consuming and confusing experience, this gets all the more worrying since sapphire gemstone rings are often priced quite high. Like for any other jewelry purchase, you will first need to evaluate the jeweler and then consider the purchase. More than 7,000 jewelry lovers spread across the 5 continents, rely on Kaisilver for their gem and jewelry requirements. These buyers give importance to quality and gain a lot of peace of mind, when they order jewelry from us. Having said that, we at Kaisilver do not expect all of you to pick us as your jeweler. So here are some valuable suggestions to help you get a good sapphire gemstone ring. The RG224PS Sapphire Gold Ring from Kaisilver, is an pretty pink sapphire and diamond ring. You can order the same ring with yellow, white, pink, green or blue sapphires. You could even combine different sapphire colors in the same ring. The gemstones that you select for your ring, need not be limited to sapphires.
Sapphire Ring Essentials:
Jewelers sell both natural and lab created sapphire gems, make sure that you get a natural sapphire.
Most sapphires are heated to improve color and clarity, simple heating is an accepted treatment.
Sapphire treatments aside from simple heating, need to be clearly disclosed by the jeweler.
You need to make sure that the sapphire gemstone you get is what you paid for.
Sapphires are expensive and large sapphire gemstones are priced at a premium.
Not all sapphires are blue in color. the gem is found in an array of amazing colors.
Sapphire gems by nature, are hard and durable, they are therefore easy to maintain.
Lack of sufficient metal weight for your sapphire ring can make the jewel prone to damage.
Gold and silver sapphire rings should have good workmanship and the same gem quality.
Sapphire rings with bezel set gems, offer the most secure and protective gem mounting.
Prongs often get stuck in pockets and other fabrics, this causes them to loosen the gem.
Kaisilver Sapphire Ring Features:
Custom made sapphire rings for men and ladies in gold or 925 sterling silver.
You can pick the design for your ring from our websites or, send us images of your own.
Silver and gold sapphire gemstones have the same quality of gems and craftsmanship.
Our rings generally have 40-60% more metal weight as compared to others.
A researched design, good metal weight and workmanship, enhance the durability of our rings.
We handpick and custom cut all sapphire gemstones used in our gold or silver rings.
All references made are for natural and heat treated sapphires, we play no gimmicks.
Clear disclosures are made for gems, authenticity certificates can be provided on request.
Sapphire rings can be ordered with white, blue, pink, green, yellow and orange sapphire gems.
Since every sapphire ring is made to order, we can accommodate all ring size requests.
Sapphires are very popular, rare and expensive, they are available in a wide range of prices. At Kaisilver, we tap some of the worlds biggest sapphire resources and this, allows us to deliver the best gem for each price point. Sapphires are the birthstone for the month of September, they also represent the 5th and 45th anniversaries. A unique variety of sapphire referred to as 'star sapphire' is often worn to celebrate the 65th anniversary. The Kaisilver team at sales@kaisilver.com will be glad to help you with any queries that you might have related to gems and jewelry. We encourage you to seek our expert advice irrespective, of from where you plan to make your purchase.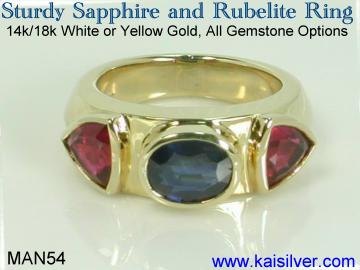 Custom men's ring with an oval sapphire gem in the center and a trillion rubelite gem on either side. You can pick all the gems for your ring and order the sapphire ring in gold or 925 sterling silver ... more.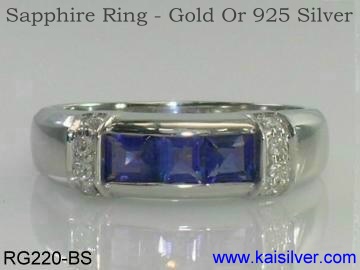 A white gold sapphire ring, you can combine gems of your choice in this ring. Crafted by skilled artisans in silver and gold, you have a choice of all three gold colors to choose from. Learn all about this ring ... more.
A gorgeous 14k or 18k white or yellow gold ring with sapphire gems, you choose the gold color and the color of the sapphire gems in your ring. The ring is also crafted in sterling silver, with good workmanship ... more.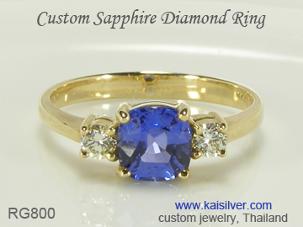 A fine sapphire diamond ring, perfectly suited for a sapphire engagement ring and yet, reasonably priced for daily wear. Choose a sapphire gold or silver ring with a pink, blue, yellow or pink sapphire gem ... more.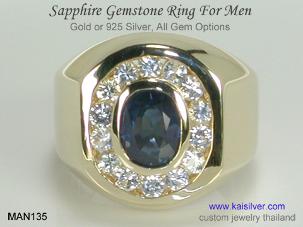 An impressive and sturdy sapphire diamond ring for men, the gold or silver sapphire gemstone ring can be ordered with any of the available sapphire gem colors. A handsome ring that will enhance your style ... more.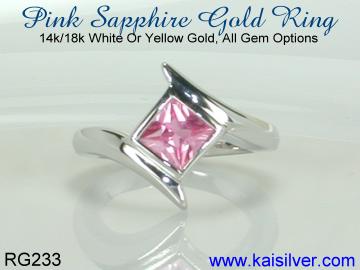 A fine custom made sapphire gemstone ring with a 6mm square pink sapphire gem. When you order your sapphire gemstone ring from Kaisilver, you select the design and the color of the sapphire gemstone .. more.