Celebrity Jewelry, All That Glitters Is Not Hers
Talk about the Emmy, Grammy or Oscar awards and we all know that it is the night for accomplished artists to present themselves. It is the place where most of the stars and starlets who have made it big are seen and heard. Some where in this glamour and glitz is another business element, that gets a chance to become a star, this is all about glittering gemstones and jewelry. For days, weeks and months you will read about which starlet draped what around her wrist and who wore that 30 carat sapphire pendant and surely, who stole the night with a 100 carat pink diamond necklace. This is just one part of the talk and along with mouth watering descriptions of exotic gemstone names, big carat bulk and mind boggling price estimates, you will also hear the name of the jeweler behind those celestial jewels.
So how does this jewelry and the big night thing work, does Kim or Jennifer or TeeniToony pay that flamboyant bill and buy the jewelry, do the award sponsors just splurge all that glitter and color on the stars or have those starlets just met their dream man who happens to be loaded with money. The fact is that, the jewelry worn on those special nights is rarely owned by the stars, it remains the property of the jeweler. In some cases, it is the jeweler who works with the star's manager to have the jewelry worn for the big day. In most cases however, it is the star's entourage that requests to borrow jewelry from the jeweler. The tremendous publicity generated by video shoots, photographs, editorials and more recently through instant social media postings from hundreds of androids and iphones, works to the benefit of both the jeweler and the stars.
The process of borrowing jewelry can be complicated especially if the jeweler is not one of the biggest names in the industry. Insurance companies might refuse to insure the jewels the moment they reach the hands of the star, it would then be up to the star to sign contracts and ensure that the expensive glitter is well covered for loss, theft or even damage. There is a lot of hard work and risk involved in this business but, both sides expect to rake in benefits that will far outweigh the risk and discomfort.
While the jewelers and the stars battle it out for recognition and fame on those event nights, the good news for you and us is that, we can look gorgeous and stylish without getting into those risky and nail biting ventures of borrowing and insuring. We will introduce you to three amazing jewels that are encrusted with some of the hottest gems of today and it is unlikely that, you will need to borrow or get into deep debt to own these beauties.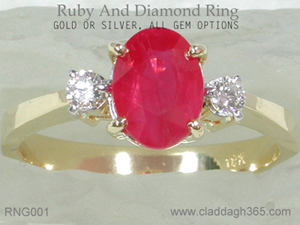 A stunning ruby diamond gemstone ring with a natural ruby gemstone and a sparkling diamond on either side of the ruby. This is one gemstone that has impressed jewelry and gem lovers for thousands of years. Always a rare gem and never cheap, rubies were once the privilege of royals and statesmen. When the British went on a colonizing spree, they gathered some fine red gems presuming that they were rubies and presented them to the Royal Crown collection back home. In their desperate effort to please the palace, they unfortunately treasured some red spinel gems mistaking them for ruby! Probably to save face, the gems continue to go by their original names that tagged them as 'rubies'. The design concept for this ruby diamond ring is suitable for both formal and casual occasions, it happens to be one of the best selling designs for an engagement ring. You can request for this gorgeous ruby ring to be crafted in gold or sterling silver, the gold ring has options for yellow, white or rose gold. We got full details for this amazing gemstone and diamond ring here.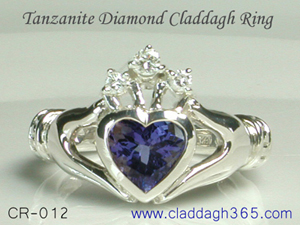 A remarkable gemstone with a mesmerizing violet-blue color, Tanzanite from the foot hills of Mount Kilimanjaro in Tanzania. While gems like rubies, sapphires and emeralds took centuries to gain fame and popularity, Tanzanite with it's amazing beauty stole the hearts of millions of gem and jewelry lovers in the short span of few decades. Besides being outrageously beautiful, Tanzanite has some truly exciting attributes. To begin with this gemstone is rarer than a diamond, it is found in just one small stretch of land in Tanzania. It also happens to be one of the very few gems that actually called for an edit of the well established birthstone charts. The month of December which already boasts of two fine birthstones namely, turquoise and blue zircon now has a new beauty to call it's own - Tanzanite. The Tanzanite heart ring shown here is the historic Claddagh Ring, the jewel that is widely believed to be one of the most meaningful jewels in history. Learn more about this awesome Tanzanite ring and get enlightened on the claddagh story here.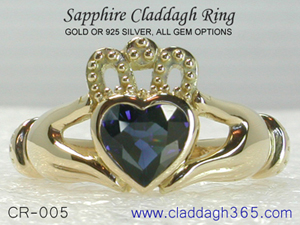 When Prince Charles decided to propose to (late) Lady Diana, the palace could have easily arranged the most glittering diamond engagement ring for the couple. But what is now well known is that, the prince chose to pick a blue sapphire and diamond ring for the occasion. The sapphire was mined in Sri Lanka and the ring was made by commissioned jewelers in the U.K. Decades later, Prince Williams decided to put the big question to Kate Middleton and he relied on the very same blue sapphire that his mother received from Prince Charles. This undoubtedly set the trend for couples to skip the diamond engagement ring routine and opt for colored gemstones instead. Here is a stunning sapphire ring that is styled and crafted to go any place and for any occasion that you wish to wear it to. With the claddagh ring being touted as one of the most meaningful jewels in history, you really cannot go wrong when you pick this fantastic blue beauty. Get to know more about this meaningful sapphire ring here.