Men's Rings White Gold 10k 14k 18k
It is a well known fact that, interest in men's white gold rings has been on the rise in the past 4 to 5 years. This report focuses on the topic of 10k, 14k and 18k white gold rings for men. Jewelers tend to push 18k men's rings while the technical guys will tell you that, 14k white gold men's rings are generally the preferred choice. You would also come across 10k rings for men. We have added a few handpicked rings to the report, as mere examples. The report itself is void of sales talk, as we prefer to leave that for the regular Kaisilver websites. Just remember that you can always contact our support team at sales@kaisilver.com if you have any questions related to gems and jewelry. We will be glad to help even if you do not plan to make a purchase from us.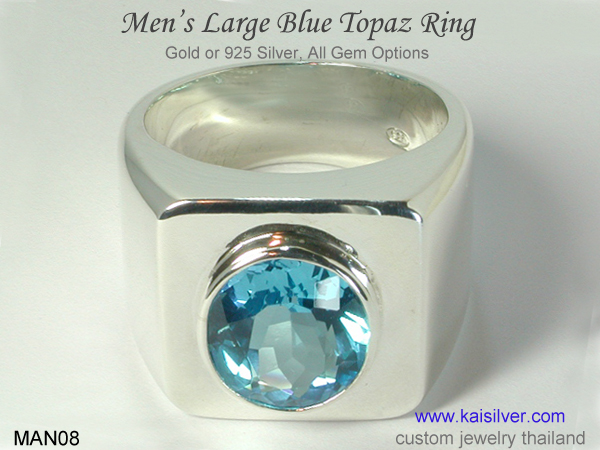 A big men's ring available in 10k, 14k, 18k white gold with the gemstone of your choice. This MAN08 men's gemstone is crafted to superior quality standards in gold or sterling silver. For blue gem lovers, this custom man's ring could be ordered in sky blue, swiss blue or london blue topaz gems ... more.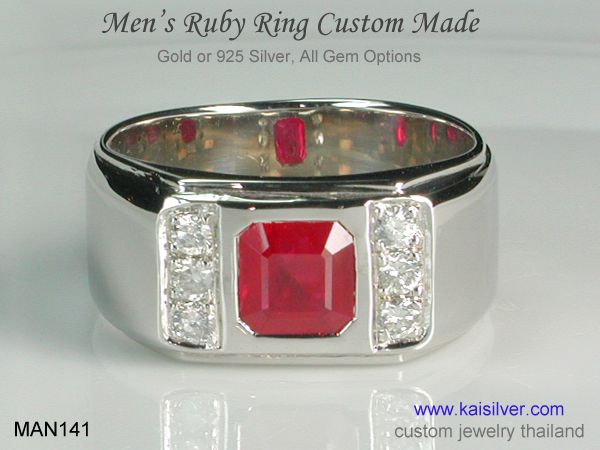 A majestic white gold men's ruby ring with diamonds. We can also craft your men's ring with a design provided by you. Ruby is a gorgeous me that looks awesome in white, yellow or pink gold. The MAN141 white gold band can also be ordered in 925 silver. No restriction on gemstone selection ... more.
What Is 10k, 14k, 18k Gold: We will clarify the concept of the 'k' number in gold jewelry before, getting specifically into white gold. Men's white gold rings are marked as 14k, 18k or 10k - while the importance of these numbers is often downplayed, it is essential to understand just what they mean. At the basic level - the 'k' number of the gold specification does not relate to a particular gold color - it remains the same for white, yellow or pink gold, pink gold is sometimes referred to as rose gold. Pure gold is soft and is not considered to be durable enough to craft long lasting jewelry. The metal is mixed with other metals to increase its hardness, the resulting allow is more suitable for jewelry crafting.
What this all means is that, the gold alloy used to make men's white gold ring consists of pure gold + 'other' metals. Of all the metals mixed in the alloy, gold would quite obviously be the most expensive. This is what makes it important to know the gold content in each of the gold 'k' alloys. A 10k white gold men's ring, would contain 42% gold and 58% of other metals. In the case of 14k rings for men, the gold content would be 58% and the other metals, would make up the balance 42%. We then come to 18k men's gold ring where you would have a 75% gold content and just 25% of other metals. Just keep in mind that these 'k' numbers and gold content numbers, would be the same for white, yellow or pink gold. Now let us assess the degree of hardness and price, of 10k, 14k and 18k gold men's rings. 10k gold is harder than 14k gold which in turn is harder than 18k gold. So the gold alloy hardness drops as you move from 10k to 18k. And given the gold content in each of the gold options, the price of the metal drops as you move from 18k to 10k gold. The Kaisilver team has summarized data for close to a data, the findings clearly show that 14k men's rings including 14k white gold rings for men, are the most popular. Placed between 10k and 18k, the 14k gold alloy strikes the right balance between hardness and gold content. Having said that, Kaisilver men's gold rings can be ordered in 10k, 14k or 18k gold - you can specify yellow, white or pink gold.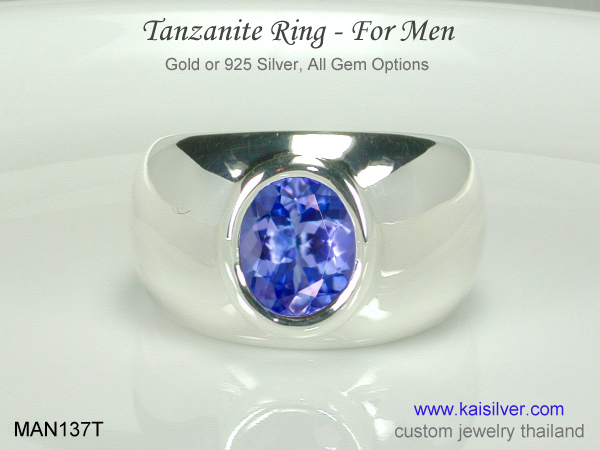 One of the very rare gemstones on the planet, Tanzanite is mined in just one small location - the foothills of Mount Kilimanjaro in Tanzania. The tremendous color and sparkle of this rare gem is beautifully showcased in this men's gemstone ring. Choice of white, yellow or rose gold ... more.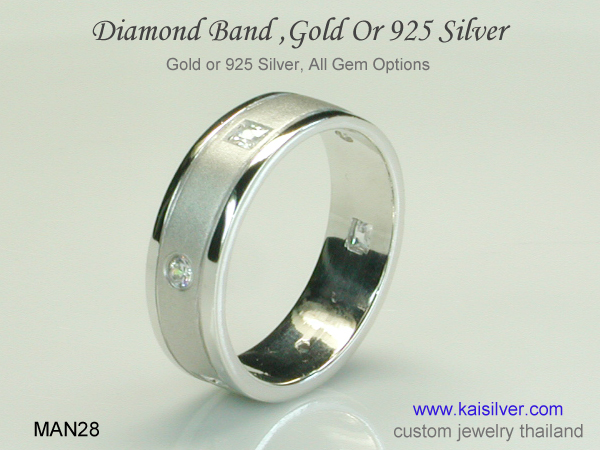 A solid white gold diamond ring for men, this sturdy men's diamond ring combines awesome looks with an extravagant feel. Diamond gold rings taken on a much brighter and luxurious look when crafted in white gold. You can select white, pink or yellow gold or sterling silver for your diamond ring ... more.
What Is White, Yellow And Pink Gold: Gold as it is mined and cleaned is yellow in color, this is obviously what gave us the term 'golden yellow'. If you wish to understand the concept of 18k, 10k or 14k men's white gold rings, refer to the above paragraph - we have already mentioned that the gold 'k' standards, apply to all 3 gold colors. We did mention that other metals, are alloyed with pure gold to get a gold alloy that is hard enough to craft durable jewels. These 'other' metals can be picked in such a way that, they influence the gold of the gold alloy. A men's white gold ring, would have a gold alloy that includes more of white metals like silver or palladium. So the net result is that, the dominantly yellow color of gold pales out. The degree of paling would be higher for 10k white gold where, the other metals are present in a higher percentage (58%). The same paling would be less if we talk about 18k white gold as, the gold content (75%) would dominate the final color of the alloy. Once the men's white gold ring is crafted 10k, 14k or 18k, the surface of the metal is treated (generally) with white rhodium, this gives the jewel a bright white color.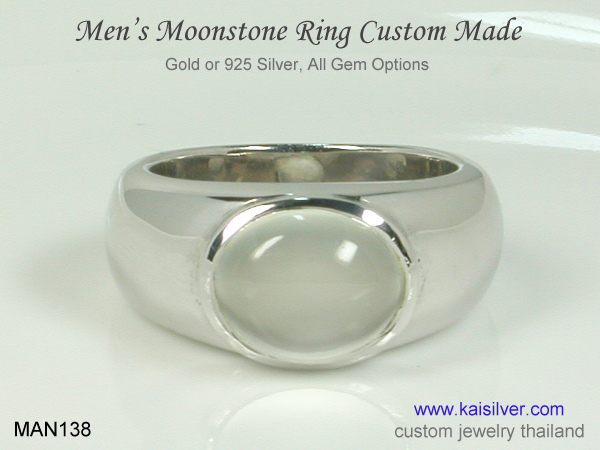 A men's ring design for a large gemstone ring. This white gold moonstone ring for men, places the gem horizontally. A nice design element if you wish to frame a large gem but want a modest band width. This ring can be crafted with a uniform width or a slight taper behind the finger - all sizes ... more.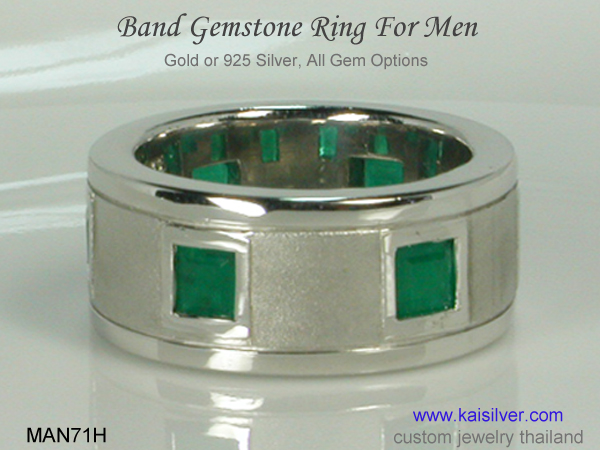 An excellent men's ring design that provides, good protection to the gemstones. Shown is a men's band with emerald in white gold. Pick the gemstones of your choice and mix and match as you wish. A broad men's gemstone band ring custom made in all ring sizes. Your choice of gold or 925 silver ... more.
White Gold And Gems: White gold men's ring with gemstones, can be tremendous. The neutral color contrast of the white metal against various colored gems, delivers a fascinating impact. Men's gemstone rings with lighter gem colors like pale citrine and yellow sapphire, aquamarine and even morganite - do a tremendous job of showcasing those colors. There are certain gem colors like red garnet, peridot, lighter shades of blue sapphire, tanzanite, ruby, moderately saturated green tourmaline etc that pair well in both yellow and white gold rings for men. Now let us talk about more saturated colors of green toumaline, iolite, blue sapphire etc - these darker gems can appear a shade darker, when set in men's white gold rings. This is basically because of the stark contrast between the bright color of white gold and the deeper colored gemstones. Irrespective of all the observations that we have made in this paragraph, your choice should be based on what makes you feel comfortable and confident.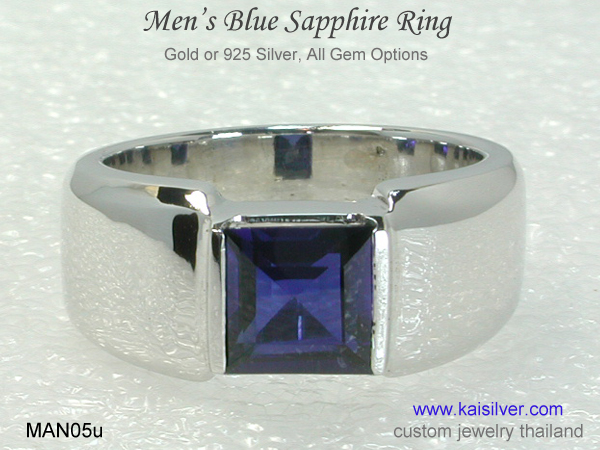 The ideal blue sapphire color saturation for a men's sapphire gemstone ring in white gold. Square gemstones when set in simple white gold rings, give the jewel a sophisticated and classy look. This men's gemstone ring can be ordered in yellow, white or rose gold - also in 925 sterling silver ... more.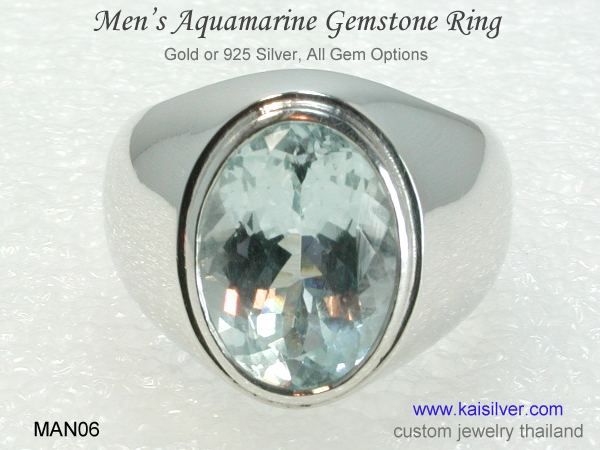 A men's aquamarine ring, this is a big gemstone ring and the combination of white gold and the pastel blue color of aquamarine, shows how the white metal allows even a lighter gem color to be beautifully showcased. You can pick a big gem of your choice for your ring silver or gold (all 3 colors) ... more.
White Gold And Diamonds: When we talk about diamonds, the general reference is to white diamonds. These glittering precious stones, look awesome in any metal color. Men's diamond rings in white gold, extend the brightness of the ring beyond the diamonds. To put it simply, diamond rings for men in white gold appear much more lavish and valuable - than in other gold colors. We should not ignore the fact that, a fairly large group of men, do not like their jewelry to be flashy and showy - this is why the demand for yellow gold diamond rings for men, happens to be equally high. Let us also clarify that, there is no reason why men's white gold rings with diamonds, should be reserved for special occasion wear. You could wear your ring everyday to work - it really is all up to you.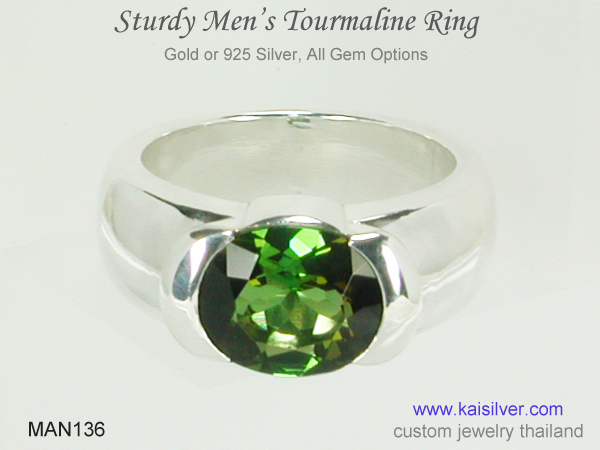 This is a men's heavy gold ring, crafted in white gold and studded with a sparkling green tourmaline gemstone. When choosing a white gold ring, it is important to pick the right green tone for the tourmaline. A sturdy ring that will serve you well for years and decades - gold or 925 silver ... more.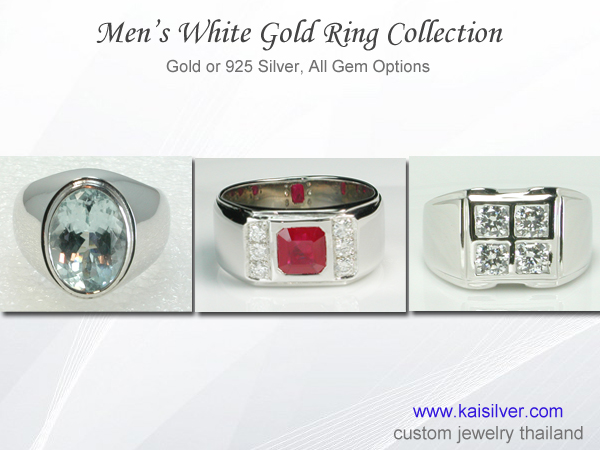 A classic collection of handpicked white gold rings for men. You choose the design or send us your own design concept, you pick the gemstone and select gold or 925 silver. Each men's gemstone ring is meticulously handcrafted by highly skilled in Thailand. Custom made in all ring sizes ... more.
White Gold Rings Durability: Just how sturdy a men's gold ring would be, does surely not depend on the gold color. We did mention in the above paragraph that, the hardness of the metal depends on its 10k, 14k or 18k rating. Just how durable a men's white gold ring would be, depends on a number of factors. Kaisilver ring designs are researched to ensure that, they combine good appearance with durability. The design for men's gold rings, should be scaled based on the gold weight that is available. And if the budget for the ring is broad enough, the gold weight should be optimized for the dimensions of the ring. A white gold men's ring crafted with insufficient gold weight, would bend or deform easily. Remember that there are design dimensions for a ring and also the issue of ring (finger) size. Rings for men are generally high on both numbers something that, calls for a fairly significant gold weight. If your men's white gold ring is being crafted on a restricted budgeted, pick a design that requires a gold weight that can be handled within your budget. The hardness of the gemstone in a men's ring would also define the durability of the ring. In general, diamonds, rubies, sapphires, topaz, tourmaline, aquamarine, iolite, amethyst, green jade, black onyx - should have no durability issues. Men's white gold rings with tanzanite, emerald, kyanite and to a certain extent blue lapis, will need a certain degree of care. The good news is that the right design, sufficient gold weight and good workmanship, can substantially add to the durability of a men's ring - irrespective of the gemstone set in the ring. We welcome you to discuss the durability aspect of Kaisilver white gold men's rings, with our team at the email address provided below this report. Irrespective of how durable a men's gold ring is, it is important to ensure that the ring is kept away from environments where, it can be exposed to strong heat, hit by physical impact or exposed to strong chemicals and solvents.
How To Buy: We have preferred to keep the sales angle out of this report and focused on being informative. Each item shown on this website has a short description and a link to the complete report. We always love to hear from you so, email us at sales@kaisilver.com if you have any questions. We craft all types of jewelry in gold and 925 silver and can even work with your own design ideas.
Who Is Kaisilver: The leading online provider of high end custom jewelry, Kaisilver crafts all types of jewelry including rings, pendants, earrings, bracelets and cuff links - in gold and sterling silver. There is no limitation on gemstones and both gold and silver jewelry is crafted, to the same superior quality standards. Over 12,000 quality conscious jewelry lovers from 15 nations, rely on Kaisilver for all their gem and jewelry requirements. Contacct our team of experts at sales@kaisilver.com if you have any queries or requirements.