Men's Rings With Red Garnet
In ancient times it was thought that, all garnets were red and then for a while, all red gems were classified as rubies! The bible spoke about 'carbuncle' this was the name assigned to both, ruby and red garnet. Men have always had an affinity to red garnet at least, ever since they started taking interest in the jewelry that they wore. The gemstone has some very impressive features and interestingly, many of these appeal to men and ladies. So why should you wear a men's garnet ring, what exactly is so special about this red gemstone. In this report we will talk about the features of a men's ring with red garnet that, give an outstanding touch to the jewel.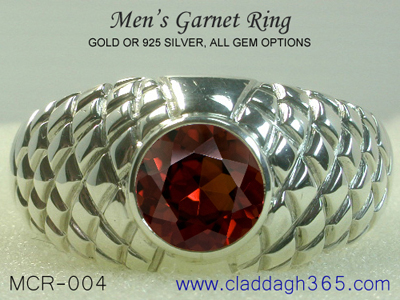 To begin with, very few men choose jewels and other accessories that are loud and flashy. At the same time, there is an increasing trend towards wearing men's rings that, seem more like an extension of your personality. So basically, the desire is for designs, gems and styles that make a statement without yelling out from the roof. If you happen to be like most men, you will love the calm confidence that dark gems present. Deep red garnet, black spinel, black onyx, very dark blue sapphires, smoky quartz and even dark purple amethyst are in demand for men's rings. A gold or silver garnet men's ring will not flash a gem that is distracting and noisy, the red color of this gem polishes your style without trying to overpower your personality. Unless you are comfortable with jazzy clothes and big belt buckles, keep the design element of your garnet gemstone ring simple and elegant. Let the gemstone do the talking but, do not pick a gem that is so large that is prone to getting damaged by physical impact. There is a big advantage of going for a custom men's ring as, you can pick the basic design concept and request for modifications to bring the jewel within your requirement. Let us take the MCR-004 Men's Red Garnet Ring as an example, you can read more on that link but, here is a quick summary. The ring has a texture on the metal and just for your information, textures are in. You can however order the same gold or 925 silver men's garnet gemstone ring with, a different texture or as a plain high polish ring. Some interesting textures are, the imprint of the bark of a tree, a slight hammered effect, a pebbled effect etc. Remember that the metal choice also allows you to incorporate your preference into the ring - while gold and silver are normal metal options for this men's gemstone ring, you can also request for a special quote if platinum is your choice. The center gem is a round 8mm natural red garnet, we will brag more about the stone in the next paragraph so keep reading.
Let's get a bit deeper into garnets in general and red garnet in particular after all, the gem is one of the reasons for you to choose a red garnet men's ring. Remember that the earliest thoughts about garnet was that, the stone was always red. Ancient garnet jewelry was often made with small pieces of roughly shaped and round gems, the size of these gems was not very impressive. But when, the small garnets were clubbed together in bunches, they reminded one of the pomegranate fruit. The Latin word 'granum' which meant grainy or seed-like inspired the name garnet. Your garnet men's ring today will have a gem that is cut and shaped by some of the finest gem cutters but, thousands of years ago - lapidary skills were unheard of. Each red garnet that is required for Claddagh365 jewelry is procured by our gem experts as a piece of rough, our network of buyers pick the stone few meters away from the mining location. After careful inspection, the piece of rough is brought to our cutting centers and perfectly cut to fit the jewel. The fact that we keep such a tight control on the procurement of garnets might seem unimportant but, there is one critical reason for doing this. This process ensures that, the gemstone that you get in your garnet men's ring is natural and left in it's natural form, without being put through any gem enhancement process.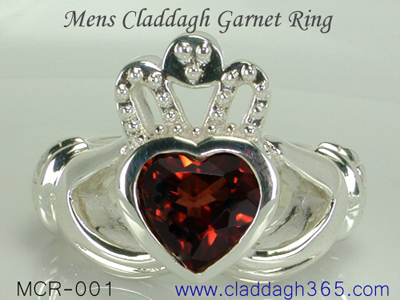 There is one fact related to men's jewelry and this is generally quite true. Men expect the jewelry that they wear to have some significance or meaning. A man might tell you that he cares little about jewelry, at the same time he could be wearing a cross pendant right from his college days and until today. Men who have never worn jewelry in their life, seem quite comfortable with wearing their wedding ring. Keeping this in mind, we would like to present the claddagh ring for men. This is a four century old ring that is today considered to be one of the most meaningful jewels in history. The MCR-001 Men's Claddagh Garnet Ring, is a perfect rendition of the first claddagh ring made by an Irish slave. The young man named Robert Joyce, made the ring while still under the horrible conditions of slavery. He believed that, making the jewel would keep him in a positive frame of mind as, he dreamed of giving it to his beloved when he was freed from slavery one day. Robert wished to convey his true feelings for his beloved through the features of the ring. Sometimes referred to as the hands, heart and crown ring, the jewel symbolizes friendship, love and loyalty. This men's garnet heart ring is one of the very few heart rings, that are suitable for men. Claddagh365 crafts fine Claddagh Rings for men and ladies in gold and 925 silver, you choose the gemstone for your ring.
There is a significant demand for men's gemstone rings with rectangular shaped gems. We have the awesome MCR-010 Men's Garnet Gemstone Ring with a cushion cut red garnet stone, a jewel that will please every man. A large 11x9mm custom cut natural red garnet adorns, the center of this finely crafted gold or 925 silver men's ring. Complete customization of all Claddagh365 jewelry allows you to request for some interesting variations, for this men's garnet ring. In the normal version as shown on the website, the ring has a tapering band width - the portion behind the finger is 5mm wide. However have a large number of orders each year where, the buyers request for a uniform band width for their garnet gemstone ring. You can let us know at the time of ordering whether, you prefer to have a change in the band width of your ring. In certain cases, a very large ring size combined with a request for a uniform band width, might call for an additional metal weight. You will be informed before confirming the order whether an additional in metal weight is applicable for your ring.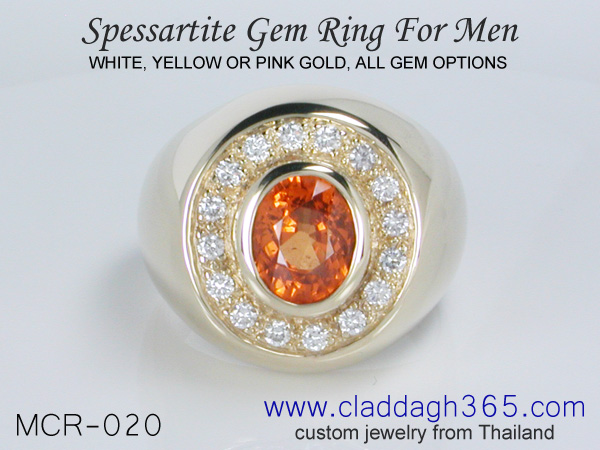 With access to almost every gemstone mining location on the globe, Claddagh365 brings you some of the most rare and exotic gemstones. Tanzania was never a big player in red garnets though, some miners did provide rhodolite garnet for a while. Our gem experts went back to Tanzania to retrieve the rare, spessartite garnet from excited miners. The MCR-020 Spessartite Ring For Men, is tough and awesome. We have packed a minimum gold weight of 20-25 grams into this ring. The oval gemstone in the center is surrounded by a row of glittering diamonds. Spessartite garnet is at least 100 times rarer than red garnet, it has a color that demands attention and will please even the most sophisticated stylist. We craft both gold and 925 silver spessartite men's rings with the same quality standards. You could order any of the men's rings on our websites, with a spessartite gem. The design of your ring or the size and shape of the gemstone can be personalized to your requirements.
The tradition of birthstones might have been initiated many centuries ago but, the practice is still widely followed. If you were born in the month of January, garnet would be your birthstone. So should you wear only a red garnet men's ring to celebrate a January birth? Going strictly by the birthstone charts, the fact is that other garnet colors were unknown when birthstones were first initiated. The scientific study of gems has today revealed that, yellow, green, yellowish brown and orange are also well represented in the garnet gem family. Our opinion is that, your birthstone should make you feel good and if a garnet does that, you should choose it irrespective of the color of the gem.
Claddagh365: If you choose to work with us for your men's garnet ring, the design and gem can be selected by you. We can procure just about any gemstone for your jewelry, so use your imagination and come up with something original for yourself. We provide the same gem quality and fine craftsmanship for gold and 925 silver jewelry. We are the preferred source for high end claddagh rings and can custom make, any jewel as per your design or ours. Discuss your requirements with our support team at sales@claddagh365.com and they will be glad to assist you and provide useful suggestions.

Related Resources: Men's Rings Collection Men's Onyx Jewelry