Blue Gems And The Kate Middleton Effect
It has been a while since Kate Middleton and Prince Williams got engaged and married but, many style gurus who live by the pen never forget to complement Kate each time a blue gem gains market share. There is no doubting that, the Kate and Williams wedding was of historic significance but, the sapphire and diamond ring worn by her had far more significance than her marriage to Prince Williams. The palace might not agree with this statement but, for millions of Lady Diana admirers, the oval sapphire in the ring and the overall design concept of the jewel, brought back memories of the dazzling (late) Diana. It is widely reported that Prince Williams wanted his late mother to be part of the important event, he therefore presented the same oval sapphire in Kate's engagement ring. To clarify the meaning of the word 'same', this was the same sapphire that Lady Diana wore in her engagement ring a few decades ago.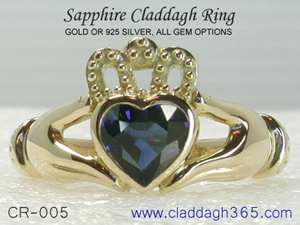 The blue sapphire in the royal engagement ring was originally purchased as a rough piece from Sri Lanka, it was cut and polished by a reputed jewelry house in the U.K. The gem had enormous sentimental value for everyone and not just for Prince Williams. Images of the sapphire diamond ring flashed across the globe, social media helped ignite a publicity engine that would remain busy for many years. While high end jewelry stores reported an increase in sapphire ring sales, many of their bespoke jewelry orders requested for the same design elements of the royal sapphire ring. The ring was obviously scaled down to more down to earth dimensions as few of us, could afford a huge blue sapphire like the one in the original jewel. The CR-005 Claddagh Sapphire Ring, is perfect for every occasion. The claddagh ring is highly respected as one of history's most meaningful jewels. Though many jewelry lovers are not aware, sapphires are found in a range of colors and not just blue. Pink, green, orange and yellow are some of the colors in which the gemstone is found.
But what if we told you that, millions of people learnt of the ring and soon had a cloned ring on their finger. This is a very true statement but, interestingly it is the incomplete story. Starting with enterprising fashion jewelry manufacturers in China, the market became flooded with 'Kate Sapphire Rings'. Some of these cost as little as 5 U.S$ in China and retailed for double that price in U.K, U.S and a few other European nations. They were made from cheap glass or priced a bit higher and adorned with factory made colored CZ stones.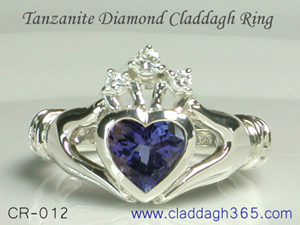 The point that we make is that, the initial spurt in the demand for sapphire rings was substantially boosted by the Kate and Williams sapphire engagement ring but, that effect has been neutralized long ago. The timing of the royal engagement and wedding was such that, interest in colored gems was already growing. Rapidly rising gold prices looked like they were aiming for the sky, world economies were not in perfect health too. Both jewelers and jewelry buyers were looking for ways to make good jewelry at moderate price points. It was not just blue sapphire that firmed up on prices, tourmaline, aquamarine, tanzanite, morganite, ruby and even exotics like spessartite and demantoid raked in much revenue. As sellers made sincere efforts to showcase these previously not-so-popular gems, buyers were ready to get on the color bandwagon, this started a spiral effect that supported increasingly higher gem prices. It is THIS effect that remains strong until today. The CR-012 Tanzanite Claddagh Ring flaunts a rare gem with a stunning violet-blue color. Tanzanite is a very rare gem found in just one place on the planet, it is also believed to be rarer than a diamond.
Claddagh365 crafts fine renditions of the four century old claddagh ring, the jewelry provider confirms, blue gems have always been popular and not all buyers are splurging on blue sapphire. The gang of natural blue gems covers every hue and tone that a style conscious buyer could wish for. The Claddagh Ring Blue Gemstone Collection, showcases silver and gold claddagh rings with blue gems. And if you feel like adorning your finger with a gem not shown on that report you will be glad to know that, you can always request for the gem of your choice when ordering custom jewelry at Claddagh365.