Blue Gems And The Kate Middleton Effect
It has been a while since Kate Middleton and Prince Williams got engaged and married but, many style gurus who live by the pen never forget to complement Kate each time a blue gem gains market share. There is no doubting that, the Kate and Williams wedding was of historic significance but, the sapphire and diamond ring worn by her had far more significance than her marriage to Prince Williams. The palace might not agree with this statement but, for millions of Lady Diana admirers, the oval sapphire in the ring and the overall design concept of the jewel, brought back memories of the dazzling (late) Diana. It is widely reported that Prince Williams wanted his late mother to be part of the important event, he therefore presented the same oval sapphire in Kate's engagement ring. To clarify the meaning of the word 'same', this was the same sapphire that Lady Diana wore in her engagement ring a few decades ago. Email us at sales@kaisilver.com if you have any questions related to gemstones or jewelry. We will be glad to help even if you plan to purchase nothing from us. We invite you to take advantage of our expertise, in all aspects of gemstones and jewelry.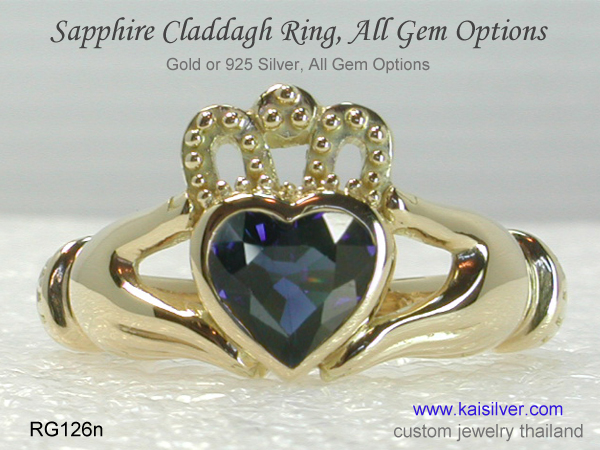 While blue sapphire has always been a highly sought after gemstone, the media hype given to the Kate Middleton blue sapphire gemstone ring, further increased demand for sapphire. The Kaisilver claddagh ring is widely acclaimed as the most desirable depiction of the historic claddagh ring. The same fine craftsmanship is provided for the gold or 925silver claddag gemstone ring ... more.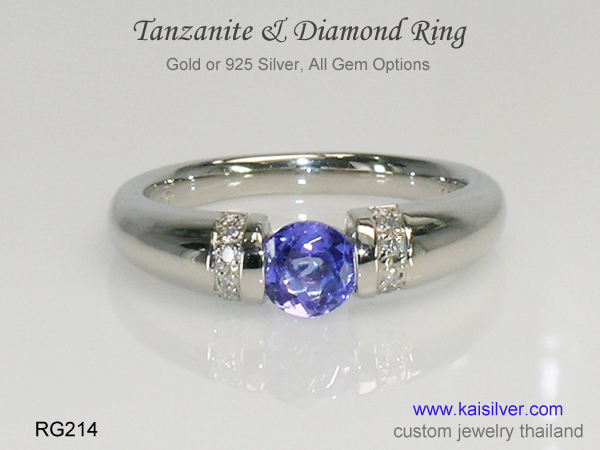 Tanzanite a blue violet gemstone has been one of the most spectacular gemstone find in the recent past. This gemstone is considered to be rarer than diamonds and is found in just, one location on the planet - in Tanzanite. A tanzanite gold ring would be perfect for a wedding or engagement ring. A must have gem for ardent lovers of gems and jewelry. We have the complete report for this ring ... more.
The blue sapphire in the royal engagement ring was originally purchased as a rough piece from Sri Lanka, it was cut and polished by a reputed jewelry house in the U.K. The gem had enormous sentimental value for everyone and not just for Prince Williams. Images of the sapphire diamond ring flashed across the globe, social media helped ignite a publicity engine that would remain busy for many years. While high end jewelry stores reported an increase in sapphire ring sales, many of their bespoke jewelry orders requested for the same design elements of the royal sapphire ring. The ring was obviously scaled down to more down to earth dimensions as few of us, could afford a huge blue sapphire like the one in the original jewel. The CR-005 Claddagh Sapphire Ring, is perfect for every occasion. The claddagh ring is highly respected as one of history's most meaningful jewels. Though many jewelry lovers are not aware, sapphires are found in a range of colors and not just blue. Pink, green, orange and yellow are some of the colors in which the gemstone is found.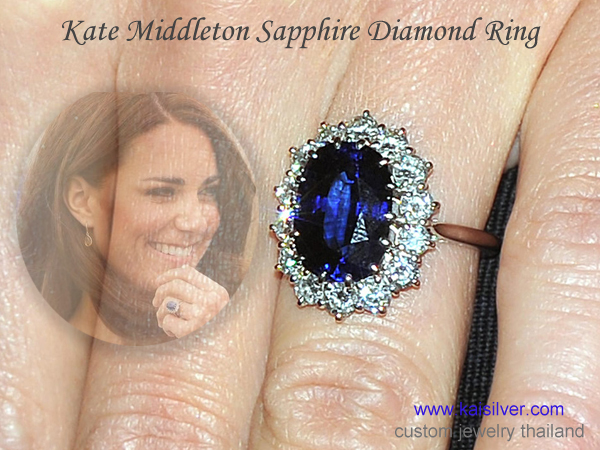 A scintillating blue sapphire gem in Kate Middleton's engagement ring. Would not be wrong to say that it was this ring that, further ignited demand for blue gemstones. Kaisilver can craft a sapphire ring based on your design or ours. We could finely handcraft a gorgeous sapphire diamond ring for you with the Kate Middleton ring design concept. The full report on the Kate Middleton sapphire ring ... more.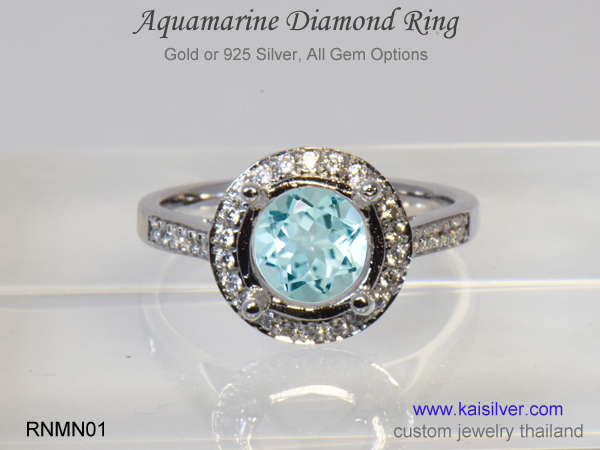 A serene blue colored gemstone, Aquamarine reminds one of the oceans and seas. This blue gemstone is popular among men and women. The fact is that we would be seeing many more blue aquamarine gemstone rings if, the gem had not seen as steady price increase over the past decade. Aquamarine the March birthstone looks awesome in gold or sterling ring. The full report at ... more.
But what if we told you that, millions of people learnt of the ring and soon had a cloned ring on their finger. This is a very true statement but, interestingly it is the incomplete story. Starting with enterprising fashion jewelry manufacturers in China, the market became flooded with 'Kate Sapphire Rings'. Some of these cost as little as 5 U.S$ in China and retailed for double that price in U.K, U.S and a few other European nations. They were made from cheap glass or priced a bit higher and adorned with factory made colored CZ stones.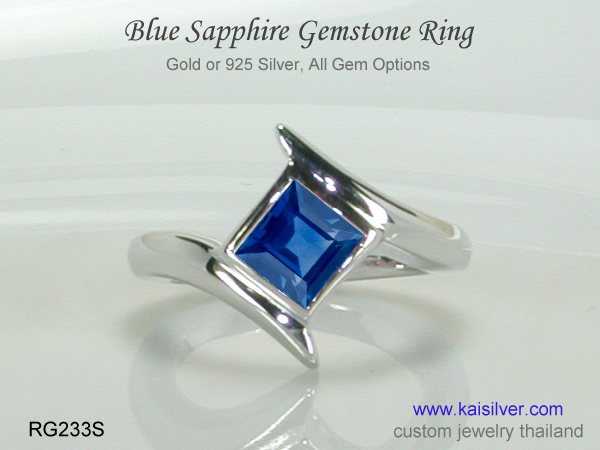 The rarity, beauty and historic significance of sapphire makes it a favorite for high end jewelry. True that sapphires are found in a spectrum of colors not just blue. Kaisilver crafts gold and silver jewelry with the same high standards. The demand for sapphires increased after, news of the Kate Middleton's sapphire diamond engagement ring drew tremendous attention. Details here ... more.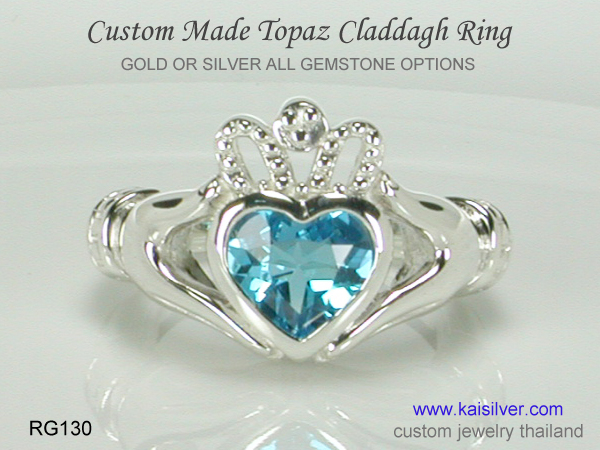 A gorgeous blue gemstone topaz offers not one but three shades of blue. Starting with a pale blue (sky blue) topaz gem, you move to swiss blue, which has more color and a bright sparkle. And then the amazing london blue topaz with a deep blue color. You could pick any Kaisilver jewel and request for it to be crafted with blue topaz or any other gem of your choice. The complete report ... more.
So if we had to summarize the Kate Middleton effect on blue gemstones, this would be our unbiased opinion. The media hype did draw attention to the gorgeous sapphire diamond ring that, Kate Middleton received to mark her engagement. Kaisilver experts received several queries as many observers were under the wrong impression that, the ring that Kate wore was once worn by the late Lady Diana. With our global connections to leading jewelry and gemstone houses, we can confidently say that, the Kate Middleton blue sapphire ring included the same sapphire gem that was used in Lady Diana's ring. However the ring itself was remade in the UK, the design concept remained similar to Diana's ring.
Fair to say that media attention made more people aware abut fine gemstone jewelry - this effect gradually came to include more natural gems and not just blue sapphire. We do know for certain that blue sapphire was known to be humans for many centuries. There was a time when only royals and aristocrats could own the gemstone! The gem continues to attract consistent demand and prices never seem to ease. Other blue gemstones like tanzanite, iolite, turquoise, blue zircon (natural), blue topaz and aquamarine - seem to have benefitted from the attention that, the Kate Middleton ring gained for blue gemstones. Kaisilver can craft just about any jewel in gold or silver for you. Finely crafted by a super team of highly skilled artisans and gem cutters in Thailand, our jewelry can be crafted with your design or ours. We should mention that, the same premium standards are maintained for gold and silver jewelry.
HOW TO ORDER
If you wish to order blue gemstone jewelry or any other type of jewelry from Kaisilver, do not be in a rush to place your order. We have real human assistance available to guide you. The support team at sales@kaisilver.com is managed by gem and jewelry experts and not smart talking sales staff. Email us your requirements and let us come up with, suggestions and advice. You can send us your own design ideas or mention the item code on our website that interests you.
All jewelry can be crafted in gold or silver with no limitation on gem selection. All gems are natural and independent authentication certification, can be provided on request. If you would like to discuss details on the phone, please include your phone number, location and suitable time (your local time) to receive the call. Include details of your requirements in the email - we will pick the right staff your query, prepare for the required information and call at the agreed time. All call charges will be borne by us at Kaisilver.
WHO IS KAISILVER
The leading online fine custom jewelry provider for over 2 decades, Kaisilver today serves around 12,000 gem and jewelry lovers across 15 nations. A team of highly skilled jewelry artisans and gem cutters in Thailand, work on all Kaisilver jewelry orders - the same quality standards are maintained for gold and silver jewelry. Remaining closely connected to all major gem mining and cutting operations in the world, we have preferential access to over 200 million carats of gemstones. Whether it is blue gemstone jewelry or jewelry with any other gems, rest assured that we place absolutely no limitation on your choice of gemstones. Our support experts at sales@kaisilver.com will be glad to help you with any further information that you might need.
KAISILVER REVIEWS
I just received my ring and I had to send you a note of thanks. It is as beautiful as I expected it would be. Your patience with my questions was always gracious and the answers prompt and courteous. Please extend my thanks to the entire company and the artists who created this piece of art during extremely trying times for you. Feel free to use my endorsement of your company on your website, and I will be sure to tell everyone about your company. Thank you and God bless all of you ... Lynn St. Martin ... more.