As jewelry lovers give more importance to the significance and meaning, of the jewels that they wear – the desire to wear unique jewels like the 4 century old cladagh ring picks pace. The RG175 cladagh gemstone ring from Kaisilver, retains all the meaning and features of the first ring made centuries ago by an Irish slave named Robert Joyce.
The cladagh tourmaline ring, pairs two awesome stories. The first undoubtedly about, the history and meaning of the historic jewel, the second relates to the gorgeous tourmaline gemstone. Before we talk more about the cladagh ring, let us briefly understand the gemstone. It might be right to mention that, you can order your gold or 925 silver cladagh ring, with the gem of your choice. Your choice of gemstone is not limited, to what is shown or mentioned on Kaisilver websites.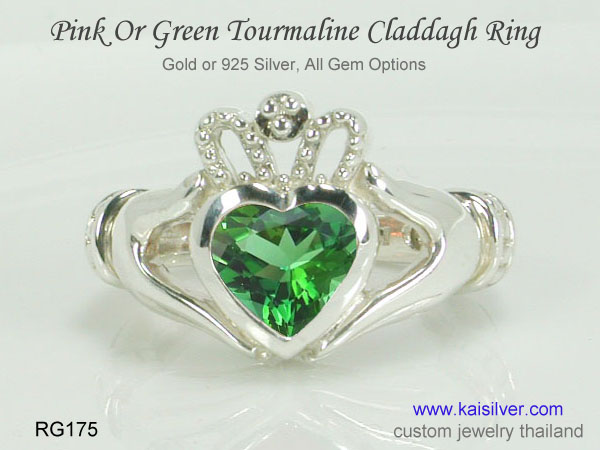 Tourmaline is found in a spectrum of colors and green tourmaline is the most popular color of the fascinating gemstone. Kaisilver can custom make your cladagh tourmaline ring with pink, green or red (rubelite) tourmaline gemstones. You can in fact choose any gem of your choice when ordering a gold or silver cladagh ring from Kaisilver ... more.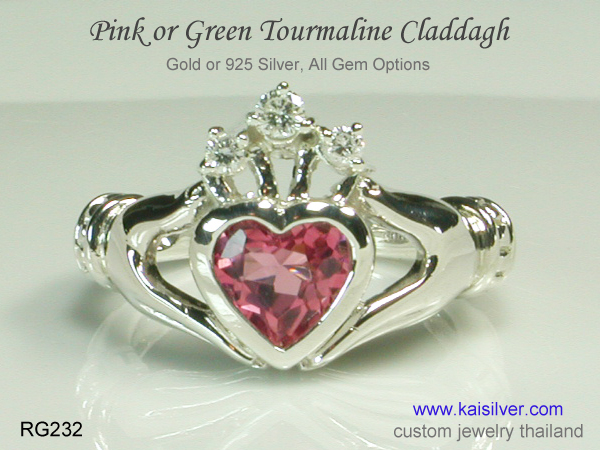 A gorgeous pink tourmaline gemstone heart ring - the historic cladagh ring first made over 4 centuries ago. There is no limitation on gemstones when ordering a Kaisilver cladagh ring. If you prefer a tourmaline cladagh ring, let us know if you prefer pink, green, blue or red tourmaline for the ring. The gold and silver rings are finely handcrafted ... more.
It is widely believed that tourmaline, gets its name from Sri Lanka (formerly Ceylon) where, the word 'turmali' means, many colors. Interesting because, tourmaline is naturally found in a range of colors green, pink, yellow, blue and red are the most popular when it comes to tourmaline rings and other jewelry with tourmaline gemstones. Ancient Sri Lankan folklore says that, tourmaline is a gem that dropped from heaven. It further describes how, the gem picked its colors from the rainbow!
While folklore adds interest to a gem, there are some scientific facts that reveal amazing details of the tourmaline gemstone. The gem is durable and will not scratch or chip easily. All the colors of tourmaline are secure, the gemstone has never been known to fade in daylight or lights that are domestically used. This obviously means that, your tourmaline cladagh ring, would not need much of fuss and caution when being worn. Having said that, it is important to remember that jewels and gems, should never be exposed to strong chemicals, high heat or strong detergents.
We occasionally do get requests for cladagh gemstone rings with black tourmaline. Just to mention that, green tourmaline can at times, appear very dark – almost black but, that is really not what the term 'black' tourmaline refers to. Nature has bestowed us with real black tourmaline, also referred to as 'schorl'. Most cladagh black tourmaline requests, come from people who believe in the special properties of gems and crystals. The problem with black tourmaline is that, it chips and scratches quite easily. Cutting and polishing the gem can be very challenging, as the gem keeps getting scratched and etched during the cutting process. So while we can custom make a cladagh tourmaline ring with a black tourmaline gem, do not expect the gem to have a fine cut and polish like a black onyx or other gem.
The important thing about Kaisilver cladagh rings is that, the gold or silver ring are crafted to the same premium standards. And since the true meaning of the historic jewel lies in its features (the heart, crown and hands), the gold or silver cladagh ring, would have the same degree of significance. You can therefore pick a gold or silver ring, based on your personal preference and budget.
This report on the cladagh ring, would be incomplete without a short narration on the history and meaning of the ring. A young fisherman by the name of Robert Joyce, was once captured by pirates and sold as a slave to a wealthy goldsmith. The story dates back to over 400 years when, slavery was rampant. Put through the harsh rigors of slavery, Robert kept thinking about his beloved – the young lady lived in the same Irish village (where Robert lived) named Cladagh. Robert thought of making a jewel for her and hoped, to give it to her when he was freed from slavery. The jewel would express his true love for the lady. Years later when Robert Joyce was a free man, he rushed back to his village and handed over the jewel to her. The jewel was a special ring with features that, symbolized his feelings for the lady. The ring had a heart in the center that signified love, the hands were symbolic of togetherness and the crown expressed his loyalty. The ring came to be known as the Cladagh ring – named after the village in which, Robert and his lady lived, got married and spent the rest of their lives. Review the Cladagh Meaning report, to get a more detailed explanation about the cladagh ring.
The RG175 shows the cladagh ring with a green tourmaline gem, you can read the complete RG175 Cladagh Tourmaline Ring report to, learn all about the options available and pricing. Review the complete Cladagh Ring Collection, to see some more gorgeous gemstones. Just remember that, you can order the Kaisilver cladagh ring in gold or silver, with any gem of your choice.
WHO IS KAISILVER
Leading the online high end custom made jewelry sector for over 2 decades, Kaisilver crafts all types of jewelry in gold or silver. Superbly handcrafted by skilled artisans and gem cutters in Thailand, Kaisilver custom jewelry can be ordered with your designs or ours. We place absolutely no limitation on gemstone and design selection. Networked to all major gem mining and cutting operations across the globe, we have preferential access to over 200 million carats of gemstones. This ensures that you always get the best gemstone at each price point. Email us at sales@kaisilver.com with any questions or requirements that you might have, we will be glad to help even if, you do not purchase anything from us.
HOW TO ORDER
Each item shown on our websites has a unique item code, this can be seen on the tourmaline cladagh rings shown on this web page. You will find a link to a more detailed report with information on ordering, gem options, dimensions etc. In any case, we encourage you to communicate with our team at sales@kaisilver.com and discuss your requirements. High end jewelry like the one delivered by Kaisilver, was not meant to be purchased in a rush - make sure that you have all the information that you need. The team will direct you through the purchase and payment process.
KAISILVER REVIEWS
I just received my ring and I had to send you a note of thanks. It is as beautiful as I expected it would be. Your patience with my questions was always gracious and the answers prompt and courteous. Please extend my thanks to the entire company and the artists who created this piece of art during extremely trying times for you. Feel free to use my endorsement of your company on your website, and I will be sure to tell everyone about your company. Thank you and God bless all of you ... Lynn St. Martin ... more.