Men's Rings With Jade From Burma - Tips And Notes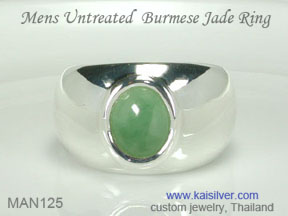 This is a high utility report for those of you who plan to buy a men's jade ring with a limited budget. The finest jadeite from Burma which is referred to as Imperial Jade, has today climbed up the price ladder and can cost upwards of 1,500 U.S$ per carat. If your jade ring can handle such a high budget, discuss your requirements with Kaisilver or any other jeweler and work out the details. Unfortunately for most of us, high quality Burmese jadeite jade is off our shopping list mainly, for price considerations. So what should you do if you wish to have a natural jade gemstone ring for men with, the gem mined in Burma. Kaisilver has worked hard with Burmese jade mining operators to pick, value giving jadeite that is not very expensive. A high proportion (almost 85%) of the Burmese jade that reaches commercial gem markets, is dyed (treated) to improve color and translucence. Dyed jadeite looks great looks great and the untrained eye, could easily confuse it with high quality Imperial jade. At Kaisilver we source jadeite from mining and cutting operators, this ensures that the pieces we buy are not treated in any way. There is absolutely nothing wrong in wearing a men's ring with a treated (dyed) green jade gem what matters is that, you know exactly what you are getting and are charged a fair price for it. What this means is that, you can choose a treated or untreated gem when ordering your 925 silver or gold men's jade ring from us.
Kaisilver Men's Jade Rings Highlights:
Crafted with good workmanship and handpicked jade in gold or 925 sterling silver.
Men's gold or 925 silver jadeite jade rings crafted with your designs or ours.
Gold green jade rings for men are available in 14k and 18k with all three gold color options.
Men's silver jade rings can be plated or left un-plated, we recommend that no plating be done.
Each men's ring is fully custom made, there is no limitation on ring size.
All jadeite is natural and mined in Burma, you can choose untreated or dyed green jade.
Our jade rings for men are moderately priced with affordable natural jadeite jade gems.
Contact our support experts if you wish to have an extravagant fine jadeite gemstone ring.
Kaisilver men's jade rings give emphasis to durability and impressive appearance.
Gem authentication certificates available for every gem on request.
We can accommodate requests for the gem to touch the finger from inside the ring.
Both gold and silver men's jadeite jade rings are provided with optimum metal weight.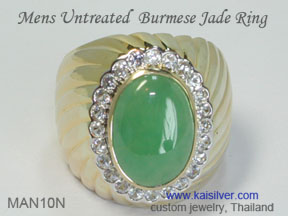 Durability: Interestingly this is not one single feature but a combination of many features in a men's jade ring. Most Kaisilver men's rings have a bezel setting for the gem, this is where the entire border of the gem is covered with metal. The absence of prongs in the ring is a welcome feature, prongs tend to get stuck in fabric and gradually open up. It is well known that Kaisilver jewelry generally has a metal weight, that is around 40% to 50% more than what other jewelers provide. This is one feature that significantly enhances the toughness of a jewel, light weight rings can be flimsy and require frequent repairs. While jade is well known for its durability mainly because of its internal structure, the dimensions and depth of the gem can positively (or negatively) impact the strength of the ring. The gemstone in our men's silver or gold Burmese jade ring, is cut with optimum thickness. A very low gem can compromise the visible luster of the stone and a very high cut gem, is more likely to hit against hard surfaces. A casual jewelry buyer might not notice the efforts and intricate features incorporated into every men's jade gemstone ring to boost durability but, in the long term these features will prove how indispensable they are.
Your custom men's ring with jade gemstone can be made as per your design specifications. You can also pick a ring from our website, request for design modifications and order it in gold or 925 silver with Burmese green jadeite jade. Review some great suggestions for your ring in our Men's Jade Ring Collection but remember that, we place no restrictions on your choice of design or features. When ordering your jade ring for men, you can choose from untreated or dyed (treated) Burmese jadeite jade, gems in both cases will be modestly priced. We can also accommodate requests for high quality jadeite from Burma that has not been treated in any way. These gems are very highly priced and can range, from 1,500 U.S$ to 3,000 U.S$ per carat.
Kaisilver: We are widely recognized as the leading online source for high end custom made jewelry. High quality workmanship and gems handpicked by experts, are provided for all the gold and 925 sterling silver jewelry that we custom make. We place no restrictions on your choice of design or gems, you can even email us your own design images or sketches to be custom made. Discuss your queries and requirements with our experts at sales@kaisilver.com . Since you do not need to make any purchase to get the benefit of their experience, there is little reason for not requesting their advice and suggestions.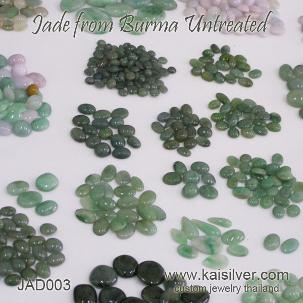 Moderately priced untreated jadeite from Burma, these pieces were selected by our experts from very near the mining locations. Our range of impressive and affordable men's jadeite rings are crafted with such handpicked gems. We can also provide high priced Imperial jade for your gold or 925 sterling silver men's jade ring.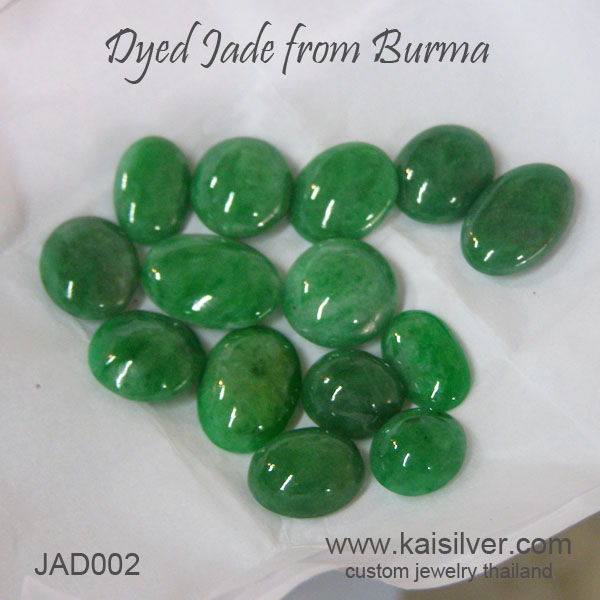 You can specify untreated jade or dyed jade for your custom mademen's ring with green jade. We provide clear disclosure of our jade being treated or untreated, so there are no sales gimmicks. If you wish to get that extravagant look for your men's jade ring but, happen to be on a limited budget, consider dyed jade.