Gems And Jewelry - Updates And Snippets
That corner of the website which you should keep visiting for updates and happenings. General information related to gems and jewelry, topics are selected with the objective of being interesting and useful. Not much of commercial angle in this section as the intent is to inform and educate. We might even squeeze some interesting content that is not directly related to making or selling gems and jewelry, take a look and you will surely be impressed.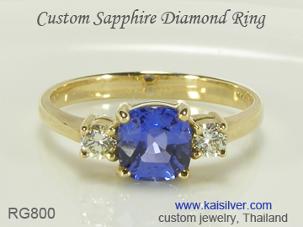 With centuries of history and folklore the sapphire is a true legend, the gem has today become one of the most highly sought after commodities. Science has made a contribution by finding that, sapphire is formed in a bevy of gorgeous colors, we now know that blue is not the only color in which a natural sapphire gem is found ... more.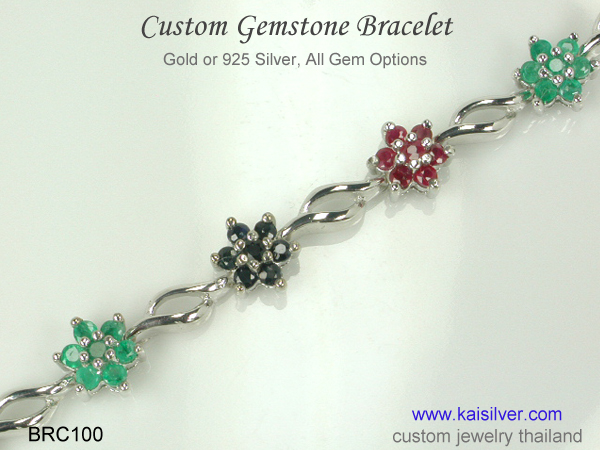 A finegemstone bracelet that showcases, three of the rarest and highly sought after gems. Historically ruby, sapphire and emerald have been accorded a high status and have remained in the higher price range ... more.
The Kate Middleton sapphire engagement ring did increase demand for blue sapphires but, the effect was temporary. Experts agree that the royal engagement was held at a time when colored gemstones were already experiencing a significant rise in demand. We talk about blue gems and their impressive demand before and after the Kate and Williams event here.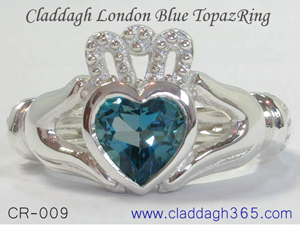 The first cladagh ring was made in Ireland four centuries ago, it is no surprise if this historic ring is often referred to as the Irish cladagh ring or the Ireland cladagh ring. The interesting thing is that, jewelry lovers are turning to Claddagh365 the fine online jewelry provider from Thailand, for their gold or silver cladagh rings. Read the report and find out why ... here.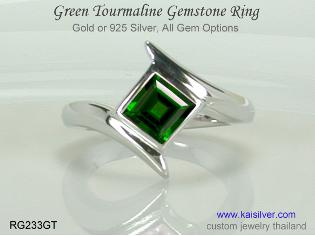 There is no technical reason why a slim ring cannot be sturdy and long lasting. Kaisilver discusses the durability features built into the popular RG233GT tourmaline ring. The information is both useful and interesting so, take some time to review the contents ... here.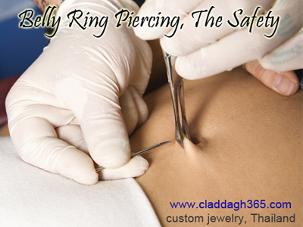 Belly piercing rings are fun but before you get down to joining the latest fashion, make sure that your navel piercing is done by a qualified practitioner. While a medical center might be the safest place to get your navel pierced, it might not always be easy to locate such a place. So make sure that the place where you get your navel pierced is clean and reputed. Should any complication arise after the navel piercing is done, take the help of a professional medical adviser and do not rely on small piercing shops. We have an excellent report to help you have a choose the right place ... here.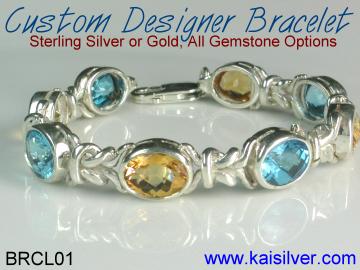 In order to get the most of your custom bracelet, it is necessary to understand what you should expect from your bracelet. For example, the quality standards for gold and silver made to order bracelets should be the same. Finding the right custom jewelry provider to craft your custom made jewelry is the first step in getting things right. It is also important to check features aside from external appearance, as durability is another essential that you should give importance to. Gemstones can add beauty and meaning to a gold or 925 sterling silver bracelet, your jeweler would need to guide you on this and other issues. Get some valuable tips and suggestions ... here.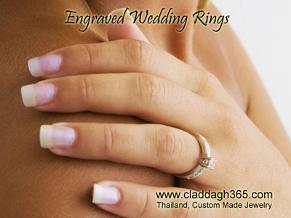 There is no doubt that engraving wedding rings is a common practice now. But what should you engrave on your wedding ring. Also the band width of the wedding rings will decide how big the text or content, that needs to be engraved can be. We put you on the right track with, sound advice and suggestions for engraving your special rings. Get more details on this interesting topic right here.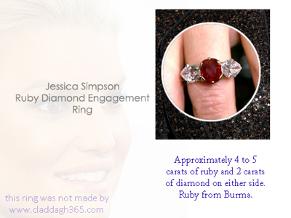 The Jessica Simpson ruby diamond engagement ring raised a lot of public interest. While some reporters seemed to be disappointed that there was no high carat diamond in the ring, gem and jewelry experts were thrilled to see a fine Burmese ruby in the center of the engagement ring. The truth is that a fine pigeon blood red ruby is surely rarer than a diamond. We get you the inside details here.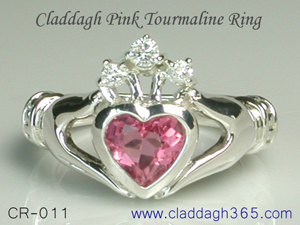 The tremendous significance of claddagh rings make them perfect for wedding or engagement rings. You can add individuality to a pair of claddagh wedding rings by, requesting for a few specific options. The selection of the gemstone and etching inside the band, are popular ways to do this. This report offers some interesting advice and makes some attractive suggestions, get to know more about this ... here.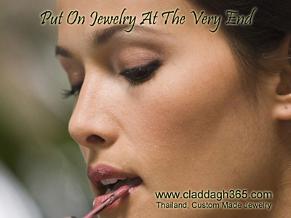 Caring for your jewelry can be fairly simple if you understand the jewel and the gemstones studded in it. While your jeweler will be of great help in educating you on the technical details, we would like to suggest that jewelry always be the last thing that you wear and the first thing that you take off when it is time to do so. Chemicals and sprays can affect the gemstone and metal, read all about this ... here.
The beneficial properties of gems is based on ancient folklore and traditions. The metaphysical properties of gems can also cover, the ability of a gem to cure a specific disease. Though many of these beliefs motivate gem selection even today, it is important to understand that they are merely interesting stories - no scientific research has ever proved them to be true. We discuss three gems that have are firmly rooted in tradition and crystal therapy ... here.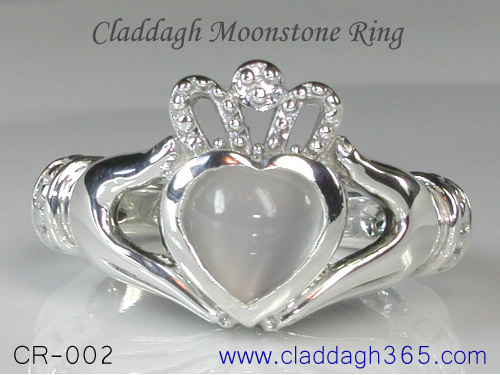 The glorious claddagh ring crafted with a gemstone that has a tremendous story to tell. Moonstone was for long believed to have been formed from frozen moonlight. The Indians referred to moonstone as the 'lover's stone'. Read all about this amazing claddagh ring ... more.
Men's rings need to address the issue of durability mainly because, you cannot expect men to be too caring and kind with the accessories that they wear. A few essential features work together to define just how sturdy and long lasting your gold or silver mens ring can be. It is important to make a proper evaluation of the jewel and not, be swayed by external appearance alone. Review our report on men's rings and learn more ... here.
Watch the Emmy, Grammy or Oscar awards night and notice the spotlight on the glittering jewels, diamonds and gems. So where exactly do these jewels come from, who pays for them and who owns them? Why do jewelers gain, what do the stars gain, read it all here.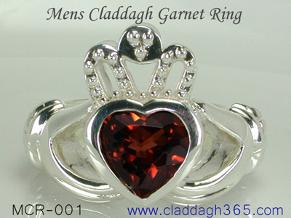 You might be surprised to know that there is a heart ring that is suitable for men and ladies alike. It is generally not considered masculine for men to wear a heart ring or pendant, so what is so special about the claddagh heart ring. Read this report and learn more here.