Couples Choose Color For Engagement Rings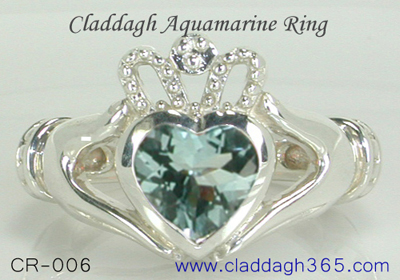 Some blame it on the Kate Middleton sapphire engagement ring but, we think that it just had to happen. Young couples were growing tired of those all-white engagement and wedding ceremonies. Today's brides and grooms to be are taking the decision to tie the knot at a far more mature age. This decision is driven by responsibility and serious thought, they seem to have become aware of the senseless splurge on diamond engagement rings at a time when, economies are limping and wise spending should be the norm. Add to this the fact that, mature adults have already carved and individuality and identity for themselves - they want their jewelry to be personalized to fit their style and personality. When you are looking for an engagement ring, give a thought to those dozens of natural colored gems that you can choose from. Some of these beauties pack a history and tradition that would outdo a diamond. The claddagh ring is a jewel with tremendous meaning, the Story Of The Claddagh, combines with the jewels interesting features to deliver a meaning for your engagement ring that no other jewel can. We could say with confidence that as far as meaning go, you will not find a more meaningful engagement ring than the claddagh. Claddagh365 will craft a fine claddagh engagement ring for you in gold or silver and you have, an unlimited range of stones to choose from. The CR-006 Aquamarine Heart Claddagh Ring, shown here is just one of the many options that you can choose from.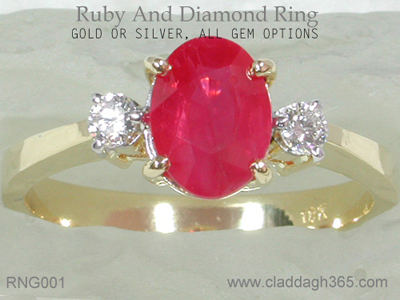 So how much should you spend on your engagement ring. Our recommendation is that, you know best - don't expect a fashion guru or a jewelry store to give you an honest opinion. The engagement ring is just the beginning of a string of financial expenses that will lead to the big wedding day and the days to follow. Don't jump at the 'best' or most extravagant jewel in town. It is probably a simple lack of knowledge that, makes you feel that a diamond is the ideal stone for an engagement ring - keep in mind that the phrases 'Diamonds are Forver' and 'Diamonds Are A Girl's Best Friend' are mere cliches, often generously promoted by movie hype and business interests. Take the RNG001 Ruby Diamond Ring as an example. The ruby is a gem that has eternally been associated with true love and sincerity, this happened centuries before DeBeers dictated that diamonds are the most precious stones on our planet. Rubies and sapphires do not lack much on toughness and hardness either. And if you hear the story that the finest rubies can be as expensive as diamonds, here is the response. Not even 0.5% diamond engagement rings sold each year are adorned with the 'best' quality diamonds. If you wish to have a good ruby engagement ring, a price tag of around 2,700 U.S$ to 5,000 U.S$ should be your price range. Keep in mind that we are talking about Claddagh365 prices - expect the same ring to sell for around 50% to 80% more in the U.S or U.K.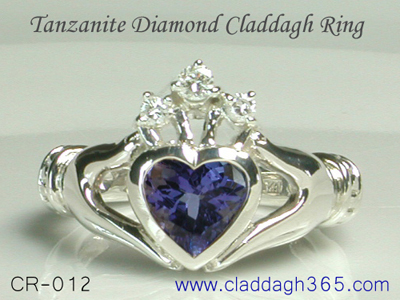 Another gem that made a flash entry on the engagement and wedding jewelry scene is Tanzanite, the exotic violet-blue beauty from the African nation of Tanzania. The amazing color of this gemstone is rarely replicated in any other natural gem, this is a strong enough reason to own a gold or silver tanzanite ring but, do you know that this is one gem that is specifically suited for an engagement ring. Giving her a tanzanite engagement ring shows that you care, you are sliding a gem on her finger - a gem that is rarer than a diamond. With that engagement ring, you wish to tell her that she is the only one (you love) for now and forever so, why not let the stone begin the story - with it's extreme rarity. Another amazing fact related to Tanzanite is that, unlike diamonds which are found in many geographically scattered locations, Tanzanite is mined in just one stretch of barren land on earth. A small strip of dry arid land near Mount Kilimanjaro is the only source for gem quality tanzanite. Choosing a tanzanite for your engagement ring means that you get a rare and one source gem - qualities that best seem to express your feelings for her. Claddagh365 crafts fine tanzanite rings in gold or 925 silver with the design and metal of your choice. The Tanzanite Rings Collection will fill you with more details on this stunning tanzanite diamond ring.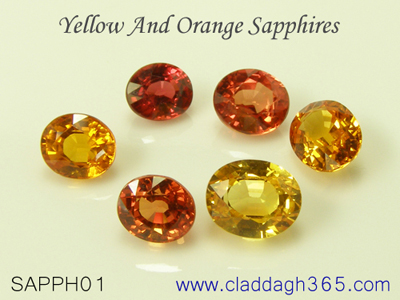 So you want a sapphire engagement ring, after all Kate Middleton wore one, Lady Diana wore the same one and everyone seems to have a sapphire on their finger or around their neck. Let's suggest a sapphire ring option with something exclusive and uncommon. Much like flying with all the other passengers for a Swiss Holiday but, travelling business class! For long it was thought that all sapphires were blue, some curious gem enthusiasts then realized that they could be white too. But we can tell you that this close cousin of the ruby, is found in a wide color spectrum - pink, green, orange and yellow are some unusual colors in which sapphire is found. Since Claddagh365 can craft your jewels with your choice of design, gemstones and metal, you could pick any ring on the website and request for it to be made with one of those amazing sapphire colors. Don't forget that jewelry can be crafted with your own design concepts too. And if you still feel like joining the crowd, we will be glad to carefully select and custom cut a blue sapphire for your engagement ring.
The above information will set you on the right track to choose the right gemstone engagement ring. We at Claddagh365 will be glad to assist in any way that we can. Do contact our experts at sales@claddagh365.com for any questions that you might have. They will educate and guide you but never, push you to make a purchase. Armed with the benefit of their expertise, you can then choose the jewelry provider of your choice.