Diamond Claddagh Rings, Affordability Factor
FINELY CRAFTED CUSTOM JEWELRY FROM THAILAND, GOLD OR SILVER ALL GEM OPTIONS
The increased awareness about the significance of the four century old claddagh ring has, encouraged young couples to consider it for an engagement or wedding ring. And when you talk about jewels to celebrate these important relationships, it is difficult to ignore the diamond factor. Many of the queries for 14k or 18k diamond cladagh rings received by Claddagh365, are related to rings with a heart diamond in the center. Keep the price factor in mind and you have a very tiny portion of these queries translating into actual orders. Surprisingly we are quite happy with this low conversion rate, it goes much on the lines of the advice that we offer young ladies and men who have decided to tie the knot. We always advice buyers to stay within their comfort budgets when shopping for an engagement or wedding ring. There is no point in going by sales staff advice and getting into debt for the sake of the ring. Remember that the significance is in the event, the ring is merely a symbol of that commitment and dedication. Considering that a fine cladagh diamond ring requires a center diamond that is at least in the 5.5-6.5mm size range, the jewel can have a minimum price tag of around 5,000 to 7,000 U.S$. And even after spending this hefty amount, you will get an entry level quality as far as the diamond is concerned. It is fine if you have the budget to spend but if you are like most of us and do not have those dollars to splurge, we discuss some interesting options for an affordable diamond claddagh ring.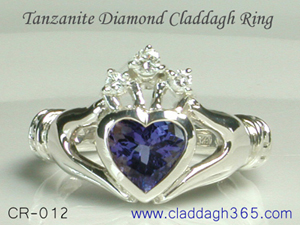 The importance of diamonds in an engagement ring is exaggerated, by some stupendous market effort by DeBeers and other diamond dealers. The enticing diamond lines '... diamonds are a girl's best friend..' and '...diamonds are forever...' are cleverly used to convince couples that, the demonstration of love and commitment is incomplete without saying it with diamonds! These punch lines are reinforced with some forceful campaigns, some of which even seek to convince you that a minimum of 2 months salary (of the to-be-groom) should ideally be spent on the diamond engagement ring. Remember that sales hype driven prompt to go for that all important '1 carat diamond' ring? And if you think that buyers have become smart and advertisers can no longer fool them, we would say that business minds never give up that easily. Before you rush to pick that all important diamond ring, the Colored Gems For Engagement Rings report, tells you that color is now being flaunted as the best option for engagement rings. Diamonds do not seem to be invincible and brides are making more logical buying decisions by opening their mind to colored gems. The CR-012 Claddagh Tanzanite Diamond Ring, combines two sensational trends related to engagement rings, into one mesmerizing jewel. The center tanzanite gem could be replaced with the gem of your choice, it represents the strong popularity of young brides who now prefer to splash some color on that all important ring. It is also a welcome acceptance of the fact that, big dollars spent on an engagement ring do not raise the level of significance of the important occasion. You could choose 14k, or 18k white, yellow or pink gold when ordering this diamond and tanzanite gemstone ring. We can also accommodate requests for sterling silver or platinum for all custom jewelry orders.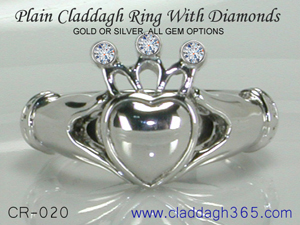 If you have read about the meaning and story of the claddagh ring, you would know that the first ring made by an Irish slave Robert Joyce was a plain metal jewel with no gemstone or diamond. The young man wished to showcase his true love for his beloved in the main features of the ring. The heart, hands and crown which form the essential elements of the 4 century old cladagh ring denote, love, togetherness and loyalty. And since these three words are at the foundation of every relationship, the selection of the cladagh ring for an engagement or wedding is a great choice. Claddagh365 responded to requests by buyers to create a claddagh diamond ring that had no gemstone for the center heart. The idea was to leave the design concept as close as possible to the first ring made by Robert Joyce but, to keep the symbolism of true and unending love represented by the glittering diamond. This prompted our design experts to come up with the absolutely gorgeous CR-020 Claddagh Diamond Ring, a jewel that combines the ancient elements of the claddagh with the modern call for diamond glitter. This ring looks a lot more extravagant and expensive than, it's modest price tag would suggest. Boasting of glittering I-J color grade and VS1-VS2 clarity range, the diamonds deliver a sparkling diamond engagement ring. You get one round 2.5mm diamond in the center of the crown and two 2mm round diamonds on either side.
While we do not suggest that diamonds are an absolute must, for your engagement ring, we do suggest to take it a bit easy on the spending when you shop for that all important jewel. The claddagh ring is today considered to be one of the most meaningful jewels in history. The Irish community clubbed the jewel in a group of rings referred to as the 'friendship' rings but, we prefer to give it the title of 'The Perfect Relationship Ring'. A team of experts from Claddagh365, spent several months researching the history and meaning of the jewel. It is this thorough understanding of the jewel that, has earned us the status of being the finest source for the centuries old jewel.
Claddagh365: While our Claddagh Ring Collection will prove why are are the preferred source for cladagh rings across the globe, we also craft all types of fine jewelry in gold or 925 silver. You choose the design and gemstones of your choice. Our support team at sales@claddagh365.com will be glad to guide you with any questions or doubts that you might have. You can also email us your own design concepts or images to be custom made, we will get back to you with details and a specific price quote. You can get more information related to cladagh diamond rings by, reviewing the detailed Cladagh Diamond Ring Report.