Diamond Ring Pairs, Custom Made
We talk about diamond ring pairs, typically known as 'his and her' rings. These are special occasion rings to mark events like an engagement or wedding. Given that the event symbolizes a solemn bond between two individuals, many couples prefer to have a significant degree of similarity in the rings that they wear. We might use the word diamond but in reality, the gems in these rings could be anything that you fancy. Diamonds are bright, sparkling, very hard, expensive and unmistakably desirable. For centuries these amazing natural creations, have signified truth, purity and eternity. Diamond pairs for him and her, can have different metals or metal color, different stones, different dimensions and different ring sizes - but the basic theme of the design is what unites them. Just one line to tell you that Kaisilver, crafts all types of jewelry in gold or 925 silver with the gemstones/diamonds of your choice. We can even craft a jewel with a design concept provided by you. The team at sales@kaisilver.com will be glad to hear from you.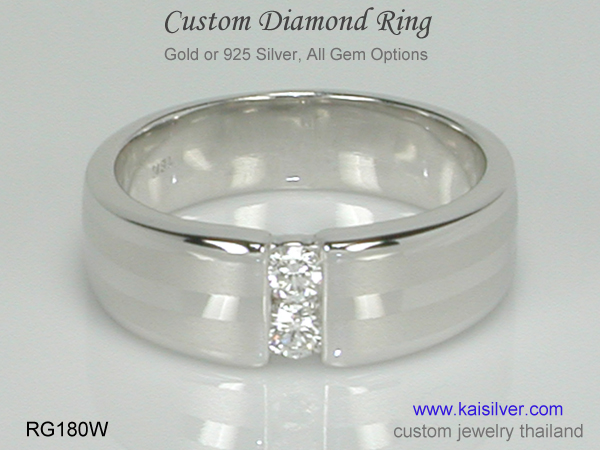 A fine design for a pair of diamond rings, you could choose 1 single diamond for her ring and 2 diamonds for his ring. The idea being that, the width of the band can be customized based on the number of diamonds selected. Available in gold or 925 silver with the same superior quality standards ... more.
Shift from the monotony of round diamonds, pick this scintillating princess cut square diamond ring. More fire and glitter, luxury at a reasonable price. With a band width of 6mm, the ring would be fine for him or her. Available in yellow, white or pink gold this ring can also be ordered in sterling silver ... more.
Band rings are best suited for a pair of wedding or engagement rings. When it comes to diamond bands for him and her, the width of the band can be adjusted for the to be bride and groom. Diamonds are expensive and sizes of 0.5 carat and below are reasonably priced. However if you have a budget that can handle larger diamonds, Kaisilver will be glad to craft your diamond bands with larger diamonds. When choosing the band width for your ring, give importance to comfort. Jewelry lovers often avoid very broad bands, this might be a good idea for your wedding ring. This especially you would be wearing your wedding band all day and everyday.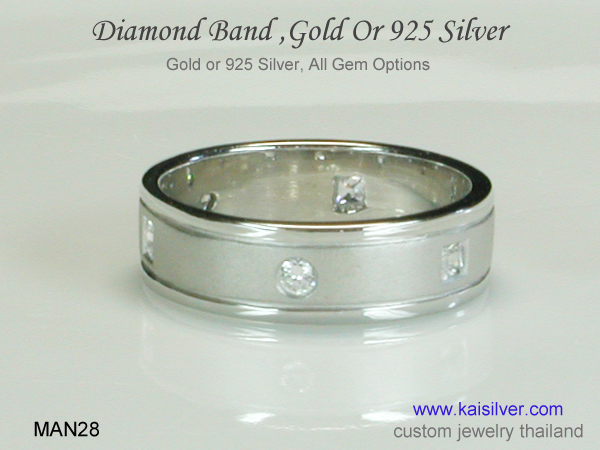 A nice concept that combines round and square diamonds in the same ring. You could choose all squares or all rounds - wedding band in gold or 925 silver. The ring can have a dull or high polish finish. Custom made in Thailand ... more.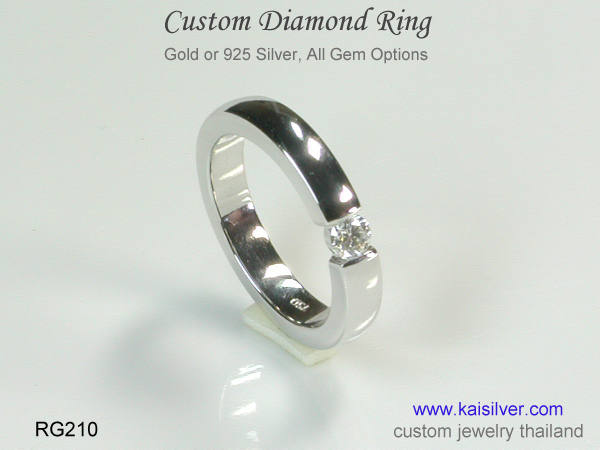 A streamlined but sturdy diamond ring, great idea for a pair of his and hers rings. Finely handcrafted with an optimized metal weight. You can request for a 4mm round diamond for her ring and a 6mm diamond for his. All ring sizes available ... more.
The construction of a band of his and her diamond rings, will greatly influence the durability of the jewels. Metal weight (gold or silver) is at the foundation of a sturdy ring. Diamond bands obviously have an equal band width all around - assigning insufficient metal weight to bands will cause them to dent or bend easily. Jewelers are tempted make light weight band rings, this to flash 'friendly' price tags. Unfortunately this make significant compromises on quality. Kaisilver diamond band rings will have no scooping done inside. Yes this does call for additional metal weight but, it is the only way to make a strong ring and a ring that is comfortable to wear.
So how much should you spend for your wedding bands. Good quality diamond band rings cannot be very expensive, but you really need not go overboard with the spend. You could plan the budget and keep aside some amount of money each month, this makes reduces financial stress. One factor that can help customize the price tag is to understand the concept of diamond grade. Mind we are not talking about synthetic or lab created diamonds, that is a totally different ball game and beyond this report. Within natural diamonds, the price per carat can vary significantly as the grade of the diamond moves up. What you need to go for is natural diamonds that, look good to the human eye. This strategy has multiple benefits, you can get a larger diamond for the same budget or the same diamond size at a slightly lower budget. These are things that the jeweler should advise you about but, most jewelers are more keen to push the most expensive rings on the buyer.
Given the current popularity of synthetic and lab created diamonds, it would be right to provide some information about these 'diamonds'. Be very clear thought that, Kaisilver diamond bands are always set with natural certified diamonds - these come from deep down in the earth and not from a production laboratory. Close to a decade ago, synthetic diamonds were indeed rare - equipment was expensive and few people know the production process. Retail prices of lab created diamonds were impressive, they were just 25% to 30% lower than natural diamonds with the same quality and features. Talk about today, synthetic diamonds are abundant, dozens of manufacturing facilities have sprung up across the globe. Prices reflect the abundance in supply, these stones today cost up to 80% less than their natural counterparts. The bottom line is that, there is nothing wrong in going for a diamond band with a synthetic diamond - as long as you know what you are getting and charged accordingly. All the diamond rings shown on this web page and all through Kaisilver websites, are crafted with natural diamonds - not lab created substitutes.
How To Order: All Kaisilver silver jewelry including diamond rings for him and her, are totally custom made. This allows us to accommodate requests for all design modifications. We can also craft a jewel for you with your own design concept. All diamonds are natural, we do not deal with lab created diamonds. A gold or silver diamond ring, will maintain the same superior standards. And if you wonder whether sterling silver wedding rings are suited for the occasion, the answer is surely yes. Just work within your budget, pick your design, gem and diamond preference and then match that against your budget. It is also true that, Kaisilver is one of the very few jewelers to assure equal quality standards for gold and silver jewelry. Each item has a link that will take you to the complete report page, you will find metal and gem options, ring specifications and pricing info on that report. Our experts at sales@kaisilver.com will glad to assist you with any information that you might need. We absolutely no problem if you finally make your purchase from another jeweler - we will always be glad to help you make an informed decision.
Who Is Kaisilver: Serving over 12,000 clients across 15 nations, Kaisilver has led the online high end custom jewelry sector for two decades. By networking with leading gem mining and cutting operations all over the world, we place absolutely no restriction on your gem selection. Preferential access to over 200 million carats of gems allows us to always, provide the best gem at each price point. Get in touch with our team at sales@kaisilver.com if you have any questions or requirements related to gems and jewelry.