Burmese Jadeite Jade, Affordability Is Possible
The term jade is used to describe two gems jadeite and nephrite, interestingly it was nephrite that was popular in ancient times. The Chinese believe that jade is a very expressive gemstone, it holds the key to the connection between the mind and the physical body. The word 'yu' meaning 'royal gem' was used by the Chinese to describe jade. Around three centuries ago, jadeite from Burma began to move beyond the boundaries of the country, the Chinese began to adore the gem for its beauty, elegance and translucence. After romancing with nephrite jade for thousands of years, the Chinese now pushed up the demand for jadeite jade from Burma. China remains the biggest consumer of fine jadeite even today, much of the high quality jadeite jade mined in the northern jade mines of Burma, end up with the Chinese.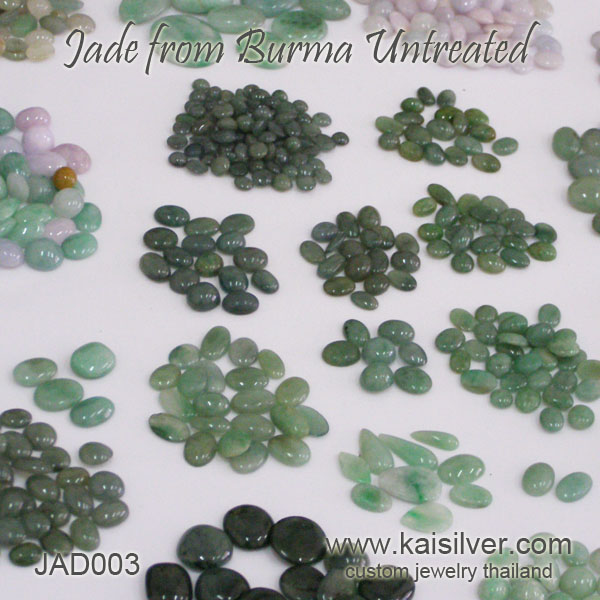 Affordable Untreated Jade: The high price of jade obviously means that the number of gem lovers who can afford the stone is limited. In this report we talk about affordable jade options. Whether you happen to be a gem collector, a knowledgeable jewelry enthusiast on a limited budget or, someone who believes in the traditional attributes and powers assigned to jade since ancient times. The fact is that the religious, social and metaphysical value of jade have always been valued higher than its mere monetary cost or price. For example, if you follow the belief that jade helps you connect outside worldly happenings with your inner self, you would give more importance to the jade being natural and probably untreated too. The color, translucence and market price of the gem would really not be of relevance to you. At the same time you would want to have a jade gem, that looks good and is durable enough to withstand frequent or even daily wear.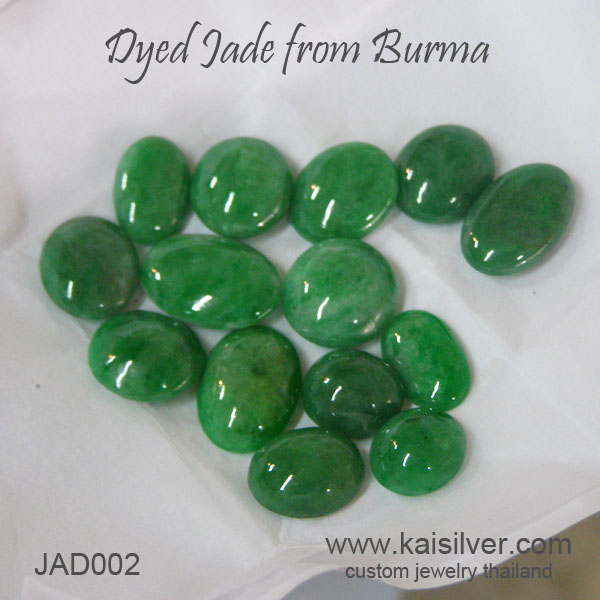 Affordable Dyed Jade: Now let us talk about treated (dyed) jade that looks great but, is moderately priced. A very tiny portion of jadeite from Burma is left untreated. Gem dealers hope to raise the value and beauty of jade by dyeing it to a more extravagant looking green - there is NOTHING wrong in selling, buying or wearing such jade as long as a few business ethics are religiously followed. When buying Burmese jadeite that has been treated (dyed), it is the duty of the seller to inform the buyer about the treatment. If you assume that the dyed jade shown in the JAD002 image was natural and untreated (not dyed), a price of around 500-750 U.S$ per carat would be a fair price. The finest untreated jadeite can go as high as 1,500-3,000 U.S$ per carat. But reveal about the jadeite being dyed and the retail price at maximum, would be around 50-75 U.S$ per carat, depending on size, translucence etc. This tremendous difference in prices between dyed and untreated jadeite from Burma, is what tempts sellers to remain silent on the important issue of jade treatments. Unfortunately there is no easy way for a casual buyer to easily detect jade treatments, the processes are advanced and can be very well concealed. We go back to the age old saying, '... value the jeweler or seller before valuing the gems or jewelry'. Simply put it means that, you should spend time choosing a reputed gem and jewelry provider before making a purchase.
Certification: When making substantial investments in jade gems or jewelry with jade, insist on a certification from a reputed laboratory. At Kaisilver, we can provide laboratory reports from AIGS, GIT or even GIA. The cost of certification per gem can range, from 75 U.S$ to 150 U.S$ depending on the details expected in the report and the specific laboratory selected. Expect the time for certification to be around 5 to 10 working days, we expect the buyer to pay for the certification charges.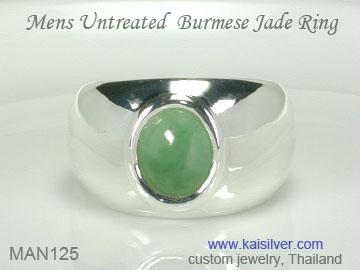 Affordable Jadeite Jewelry: Whether it is a custom silver jade pendant costing a few hundred dollars, a mens gold jade ring or one of those, extravagant Imperial Jade jewels - we at Kaisilver can deliver both quality and value for the money you spend. The best thing about choosing us for your jewelry is that, we provide the same quality of workmanship and gems for both gold and 925 silver custom made jewelry. The design for your jade jewelry can be picked by you and we welcome your own design and images to be custom made, or pick a design from our websites and request for modifications that you might like. The MAN125 men's green jade ring is shown here with an untreated jadeite gem from Burma, the ring is priced moderately and could also be ordered with a dyed green jade gem. Don't forget that with our direct gem sourcing from the Kachin region in Burma, we are the best source for jade for all price ranges, including the finest pieces costing thousands of dollars per carat. Review our Men's Jade Ring Collection and get some interesting ideas for your own ring.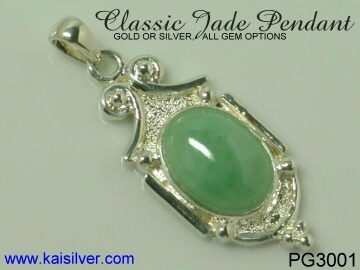 Affordable Jade Gemstone Pendants: If you are looking for a jewel with natural and untreated jadeite at a modest price, you should learn more about the PG3001 jadeite pendant from Kaisilver. The timeless appeal of Burmese jade ensures that, the gem looks amazing when set in well crafted sterling silver jewelry. A pendant is a trouble free jewel, it does not need to confirm to any specific size and is also easy to maintain. We can also craft you gold or 925 silver jadeite pendant with your design concept, the dimensions and gem selection is entirely up to you. Get to know more about this gorgeous pendant in the Jade Pendant Report, you will also find more detailed specifications and pricing details.If you happen to believe in the special (metaphysical) properties of jade, you might prefer that the gem touch your skin when the pendant is worn. The best way to handle this requirement, would be for us to mount two jade gems back to back in the pendant. You can discuss your requirement with our support experts, they will provide details and also let you know if any additional costs are involved to incorporate the design change. The same pendant can also be ordered with an affordable dyed jadeite gem or even, a high priced fine jade gemstone.
Kaisilver: Recognized as one of the pioneers for high end custom made jewelry online, we custom make both gold and silver jewelry with good workmanship and handpicked gems. You can choose the design, gemstones and metal for your jewelry, we can also work with your own design ideas or sketches. We are directly networked to most gem mining centers across the globe and have preferential access, to more than 200 million carats of cut and polished gemstones. This is the main reason why we place no restriction on your choice of gemstones. Contact our team of experts at sales@kaisilver.com with any queries or requirements that you might have.