Sapphires have been with us for centuries, the gemstone was initially reserved for royals and aristocrats. In the early days a commoner could not wear or own a sapphire gem even if, he or she could afford one. The royals claimed that the gem brought power and determination to its wearer, gifting the gem was supposed to imply a show of respect and sincerity. Most royal households had their share of priceless sapphire gemstones, these often included huge chunks that would today be worth millions of dollars. The interesting thing was that all these sapphire gems were blue, the name 'sapphire' was inspired by the Greek word 'sappheiros' and the Latin word 'sapphiru', both these words refer to the color blue.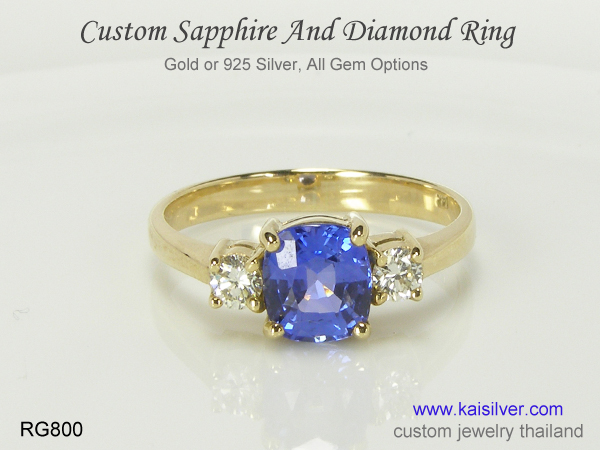 High pitched style for this September birthstone ring. Don't forget that sapphire is also an anniversary gemstone. Modest dimensions making it very convenient to wear all day. You could choose, pink, green, yellow, blue or orange sapphire. A choice of yellow, white, pink gold and 925 silver ... more.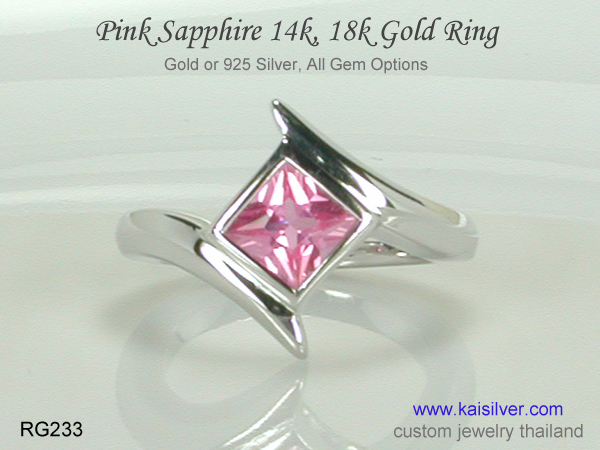 While you could wear a sapphire gem ring without any special occasion, the gem has been known for centuries and there are some important events that are best marked with sapphire. Besides being the birthstone for September, sapphire also celebrates the 5th, 45th and 70th anniversaries ... more.
This very close association of sapphire and the color blue was probably the reason why, ancient Persians mistook blue lapis lazuli for sapphire. The theory put out by the Persian scholars was that, the world (globe) rested on a huge sapphire. it was the reflection from the sapphire gem that gave us the sky and stars above. As time went by it was realized that the reference here was to blue lapis with its sparkling pyrite specks that, was confused with the valuable sapphire gem. The RG800 Sapphire Diamond Ring crafted by the expert artisans at Kaisilver, features a gorgeous cushion cut blue sapphire gem in the center, a diamond graces each shoulder.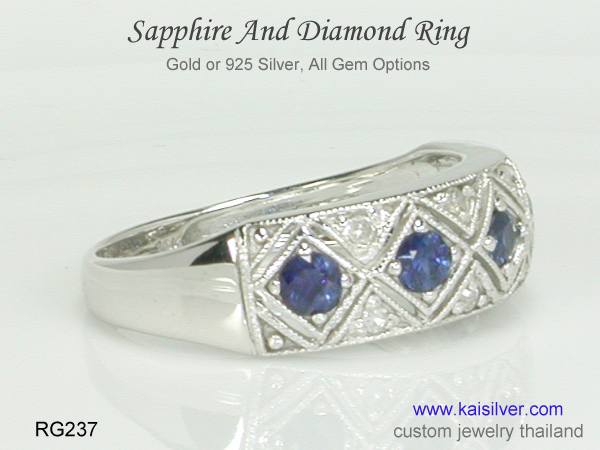 When ordering a ring there is no reason why you cannot, combine different sapphire colors in the same ring. The RG237 has an antique style with a stylish edge, fine workmanship and available in all ring sizes. The ring can be crafted with a tapered band or a uniform band width ... more.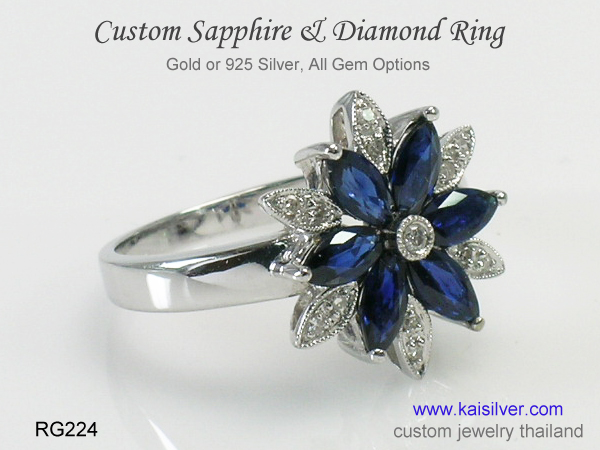 An sensational design for this 14k or 18k gold sapphire ring. Make it all in a single sapphire color or take advantage of our, unlimited gem options and sapphires in different colors in your ring. Like always, you get the same fine workmanship and quality gems for the gold and 925 silver sapphire ring ... more.
As time went by the blue beauty became available to anyone who could afford its premium price, centuries of seeking and mining meant that the gem began to get rarer. Even the wealthy began to reserve sapphires to celebrate special occasions, traditions built up linking the gem to true love, loyalty and sacrifice. The stiff price and exclusive status of sapphire made it the preferred choice for wedding and engagement rings. By then sapphire was credited with being both an anniversary and birthstone gem. Historians relate the 12 birthstones to the 12 gems studded in Aaron's breastplate, sapphire happened to be one of the gems on the breastplate worn by the high priest of the Jews. Those born in September can today proudly claim that the historic sapphire is their gemstone. As an anniversary gemstone, it is the 5th and 45th anniversaries that are marked with sapphire. The beauty, rarity, durability and rich folklore bestowed on sapphires, make them perfect for every occasion. You could gift a sapphire ring to your loving mother, a husband could present a fine sapphire diamond ring to his wife and loving mother of his children. The most lavish, elaborate and expensive sapphire gemstone rings are generally worn as wedding and engagement rings.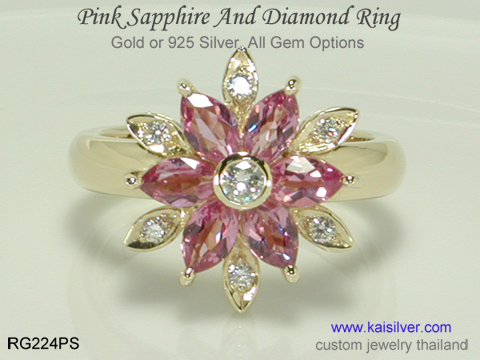 Since it was thought for many centuries that sapphires were found only in shades of blue, sapphire birthstone and anniversary gemstone rings were generally ordered as blue sapphire rings. Pink, yellow, green and blue are the sapphire colors which you can pick for your gold or silver ring ... more.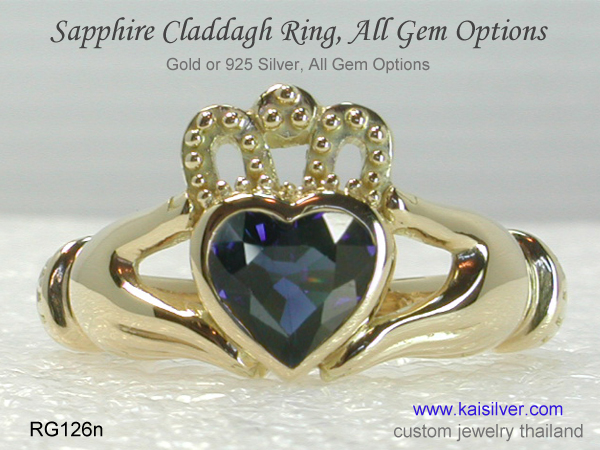 A scintillating sapphire ring with tremendous meaning and significance. Symbolizing love, togetherness and loyalty, the claddagh ring tells a 4 century old tale. Suitable for just about any occasion, a gold or 925 silver claddagh ring can be ordered with a sapphire or any other gemstone of your choice ... more.
The RG237 Sapphire Gold Or Silver Ring, is a high end custom ring made by the skilled artisans at Kai Silver. A custom made sapphire ring has some very powerful advantages but, you need to make sure that you work with the right jeweler to get the ring of your dreams. The RG237 gold or 925 silver sapphire gemstone ring, can be ordered with a tapering band width or as a sapphire band width a uniform band width all around the ring. The same team of talented designers and jewelry artisans work on the gold or silver versions of the ring.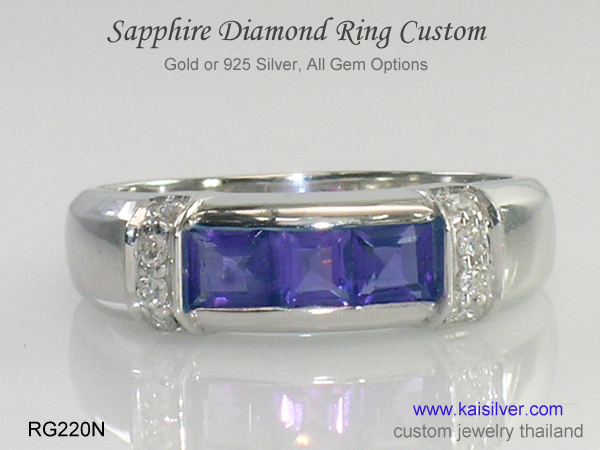 An elegant sapphire band ring, perfect for a birthstone or anniversary ring. The ring can accommodate from 3,4 or 5 gemstones. Consider combining different sapphire colors in the ring. Also suitable for a family birthstone ring with birthstones of all family members - gold or silver ... more.
A multi gemstone ring that can be ordered a ring wiht all sapphires, your choice of blue, yellow, pink or white sapphires. You could also order this custom ring with a mix of different sapphire colors. A nice choice for a sapphire birthstone or anniversary ring. White, yellow or pink gold or 925 silver ... more.
Science had a major role to play in bringing even greater joy and amazement to sapphire gemstone lovers. The fact that sapphires and rubies came from the same mineral family namely corundum, came to be known. This finding along with a better understanding of gems and minerals, revealed the stunning truth that sapphires are in fact found in a gorgeous color spectrum, it was not only blue that graced this amazing gem. Yellow, pink, blue, green, orange, white and purple were just some of the sapphire colors that came to be known. And each of these colors offers a collection of subtle hues that thrilled the high end jewelry designer. The RG224PS Pink Sapphire Ring is another fine jewel from the leading online custom made jewelry provider, the ring has a refreshing organic theme and will brighten up any outfit or dress style. The complete customization that is available for all Kaisilver jewelry gives you some amazing options. You could for example, order this pink sapphire ring in gold or 925 silver and be assured of the same gem and workmanship standards. Besides choosing from 10k and 14k gold for your sapphire ring, we also let you select any of the three gold colors - white, pink or yellow. And how about adding color to the jewel by requesting for a mix of sapphire colors in the same ring, the choice is endless and this is precisely what makes us the most preferred sourced for fine custom jewelry.
The sapphire story goes on and own, it began centuries before our time and will evolve for centuries into the future. There is only one factor that can slow down or limit development of this amazing gem, it is the lack of supply. Modern mining techniques are intensive, gem miners move deep into the mining pits and scoop up every single fragment of sapphire that can be found. Don't forget that natural sapphires take millions of years to be formed, once exhausted it would be a very very long time before new formations can occur. Now is the right time for you to pick the sapphire ring of your dreams, review the Kaisilver Sapphire Ring Collection and come up with your own inspiration. You could also email us your own design images or sketches to be custom made. Discuss your requirements with the expert team at sales@kaisilver.com and we will be glad to come up with suggestions and advice.