Spessartite Garnet Gems Kaisilver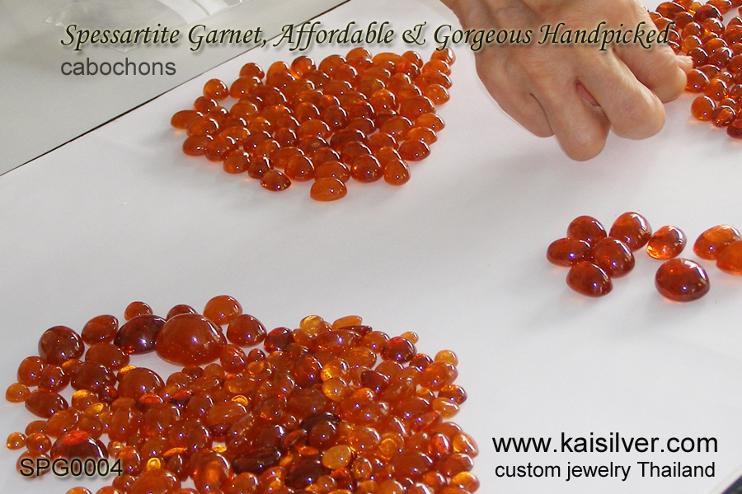 The Namibian mines that lit up the gem and jewelry markets with their find, spessartite or spessartine garnet are all but dried up. Things went quiet for a while and jewelry buyers looked for other orange gemstone options, they settled for fire opal, natural orange sapphires and even beryllium heated orange sapphires. But for those knowledgeable gem lovers who longed for the real thing, the wait was worth it. African gem dealers in Asia revealed another batch of spessartite garnet gems, these from Nigeria, Tanzania and Madagascar. These gemstones are awesome too and come in a range of orange to reddish-orange tones. Just don't get too philosophical and start comparing them with the Namibian material as, that is history now.
Here are our suggestions to pick spessartite from the current market.
Inclusions and fissures in spessartite garnets are not new, lighter gem colors make them more visible.
Instead of the pure orange 'fanta' color, choose gems with a tint of red to the orange.
Look at the gemstone from the top, you should see good sparkle and nice color depth.
The position and extent of the visible inclusions influence the price, keep this in mind.
Personal preference could differ but a good priority would be color, clarity and size.
Spessartite gems without color zoning are not hard to find, so keep looking.
Sellers with a small stock offer limited choice, they are generally more expensive too.
Kaisilver offers a good range of spessartite gems, cabochon and faceted from 2 carats to 60 carats.
Faceted and cabochon spessartine gemstones are gorgeous in their own way, study both options.
Except for Namibia, there is no other 'preferred' source for spessartite gemstones today.
If you plan a big purchase, insist on a certification from a reputed laboratory.
Finding matching sets for spessartite might not be easy, keep this in mind when shopping.
.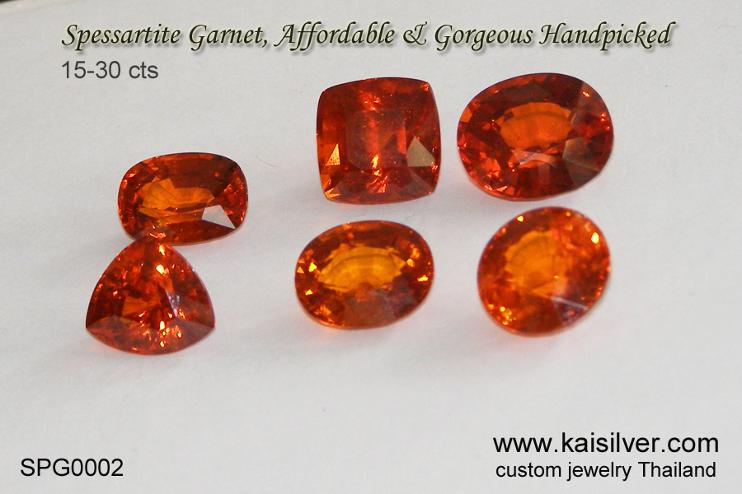 Kaisilver has developed a unique process for procuring gems both rough and cut. Rather than keep a ready stock and limit buyers to what we have, we prefer to develop and maintain direct links with miners and gem manufacturers. With the high volume purchase of fine gems that we do each year, these miners and manufacturers are always willing to show us their best material at each price range. You can therefore let us know exactly what color shade of spessartite you need, the size, shape and cut etc. Our support experts at sales@kaisilver.com will be glad to guide you with your questions and requirements. We urge you to read our complete report on spessartite garnet and contact us with any doubts that you might have. While we are not the only spessartite provider, we are surely the most knowledgeable source online. Review the Spessartite Gemstone Tips get the benefit of our expertise and then choose the jeweler that you prefer.