Ruby Diamond Ring - Jessica Simpson
In the year 2008 the U.S slapped a trade ban on two very popular gemstones from Burma, ruby and jade. Politics aside, the ban seems to have worked and not worked, trade in Burmese rubies is brisk even years after the ban is in force. The U.S might dislike Burma for certain reasons but the world just adores the red beauties from Burma. Medium to high grade Burmese rubies have shown a tremendous increase in price and continue to do so. The lowest quality rubies mined in Burma have a flourishing market in Thailand, these stones are put through the 'glass filling' treatment and sold under various brand names - a more tame word to describe their treatment has been coined 'fissure filled' rubies is the 'market friendly' term.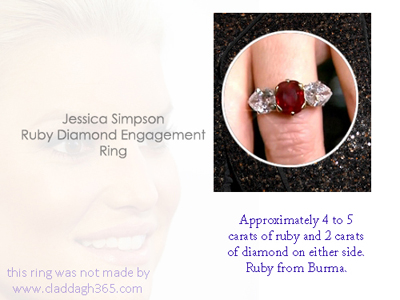 In 2010 the world of glamour and song, splashed a major story, singer-actress Jessica Simpson was engaged. The ring was a 4-5 carat ruby diamond sizzler, scribes were accustomed to bragging about high carat diamond bling, so some were taken aback with a gemstone engagement ring. The Claddagh365 team was more interested in the configuration of that ruby engagement ring, the rest of the glamour was of little relevance to us. The ruby was undoubtedly a Burmese pigeon blood color gem, natural and appeared to be heat treated. Rubies and sapphires have always been treated with heat, this is a centuries old practice and even the most knowledgeable gemologist accepts that treatment. The center of the engagement ring was aflame with this 4-5 carat ruby gemstone. On either side of the red beauty was a 2 carat sparkling diamond. The diamonds are unlikely to be less than 'G' in color and VS1 to VS2 in clarity. The price that was leaked to the press was around 100,000 U.S$ but, some reports claimed that it had touched 150,000 U.S$. Our team did some analysis to come up with a 'most likely' cost figure for the jewel. This cost would imply a price at which an ordinary person like us, would get the jewel for in a reputed jewelry store in the city of Bangkok Thailand. That figure works out to be in the range of 70,000 U.S$ to 90,000 U.S$.
Buying jewelry in the U.S is interesting, even an average jewelry seller adds a minimum of around 40% to 50% as profit margin. Now the very same jewel can cost 20% to 30% more than that if, the jewel is purchased from an expensive locality, let's say on a posh street in Hollywood. The stars are fully aware of this but, it is all done for the tremendous media exposure and publicity that the event generates. The massive profit margins that U.S and European jewelers operate with, works to the benefit of high end online jewelry providers like Claddagh365. Buyers from those regions are both comfortable and happy, to fulfill their jewelry requirements by shopping from us.
Commenting on the price for Jessica Simpson's ruby diamond engagement ring we would say that, it is indeed a good buy. In the few years that have passed since she received that ring, the jewel is very likely have appreciated by at least 30%. Presuming that the ruby was carefully checked and evaluated before the purchase and that, it keeps it's gorgeous condition, you can expect the ruby itself to be worth around twice of what was originally paid for the ring - in the next 10 years.
Diamonds And Rubies: What exactly prompted Jessica Simpson to mark her engagement with a ruby and diamond ring instead of an extravagant statement making diamond, is something we cannot comment on. However as specialists in gems and jewelry, we would like to make some points about diamonds and rubies. If you had to compare top quality diamonds and top quality rubies, ruby would be many times rarer than a diamond. Top quality pigeon blood red rubies are mined in a small area inside Burma - there is no other place on our planet where you will find them. Remember that the search for alternate sources of such fine rubies, has been going on for a couple of centuries now. On the other hand there are at least a dozen nations that mine diamonds, in over 25 mining locations. So the bottom line is that, top quality rubies are much rarer than diamonds. We now come to a very sensitive issue, the popularity of diamonds and rubies. The red gem has been embraced by royalty for many centuries, it never needed any marketing hype or press exposure. On the other hand, diamonds hit the big scene only after millions of dollars were poured into publicity orchestrated by DeBeers. So Jessica Simpson can be proud of owning a very rare ruby diamond ring, no need to be apologetic about that.
We have a more comprehensive report on Ruby Prices Sizzle, that talks about the Jessica diamond and ruby ring. Do give it a look and realize why, no one expects the price of rubies to stabilize or come down in the near or distant future.
Claddagh365: As the leading online provider of fine custom made jewelry, we craft both gold and 925 silver jewelry with the same quality of workmanship and gemstones. We can work with your designs or ours and put no restrictions on gemstone selection. Our experts at sales@claddagh365.com will be glad to assist you with any queries or requirements that you might have. Since there is no obligation to make a purchase from us, there is no reason why you should not take advantage of our expertise in all aspects of gems and jewelry.
Ruby Rings For The Rest Of Us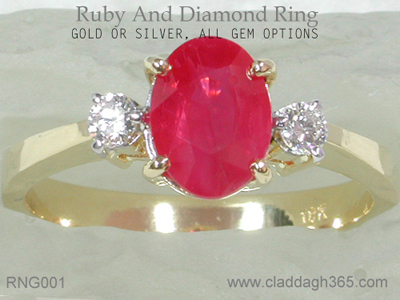 The RNG001 diamond ruby ring has everything that you could dream for in a high end jewel except, the flamboyant price tag. This ring is crafted in gold or 925 silver with good gold weight, the diamonds are natural and sparkling, the center gemstone is a natural, heated ruby gem. You can pick an 8x6mm oval ruby gem or go for the 9x7mm oval if you require one of the larger ring sizes. We custom make all jewelry so, you could even send us your own design ideas to be custom made. This gorgeous ruby diamond ring is perfect for an engagement or wedding ring and is priced modestly in the, 3,000 U.S$ to 5,000 U.S$ range. Check out this and other ruby gemstone rings in our Ruby Ring Collection.