Navel Piercing And Belly Rings, What You Need To Know
We are going to cover issues related to navel piercing and suggestions for wearing a belly ring in this report. Not much of belly ring selling here but, that does not make the information any less important. Presuming that you have not yet had your navel pierced, here is some useful advice. To begin with ensure that the place where you get the piercing done is reputed and clean, not a wayside stall or a weekend market free offer. Navel piercing is quite common and this makes people believe that, it is very simple and nothing can go wrong. While we do wish that you get your piercing done well with no problems, here are some simple suggestions. We are inclined to recommend that, the place where you get your navel pierced, be as closely connected to a medical facility as possible. And if you cannot find a medical center to do the job at least make sure that, any kind of irritation, swelling or infection that might develop is taken care of by a professional doctor.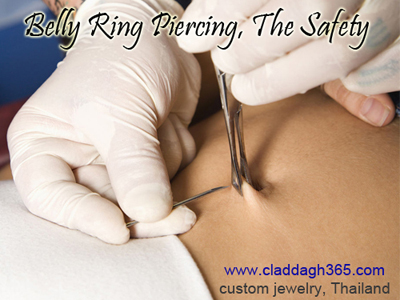 The time that it takes for a navel piercing to heal can vary from person to person. The type of piercing done can also influence the amount of time it takes for the piercing to completely heal. We have confirmed reports of anywhere from 2 months to a whole year, for this healing time. The office or medical center where you get your piercing done, should advice you regarding issues related to cleaning the pierced area during the healing time. It might be a good idea to get all this information well before, you start the piercing process. Besides being useful in itself, the type of answers that you get will help you assess the reliability of the place. Keep in mind that hygiene is essential even after the navel piercing has healed, so you could get suggestions for that too. Depending on what type of medical capabilities the piercing service provider has, you would have to decide where exactly to go if any complications do arise. While we are talking about healing times, here is an important piece of information. Many people have a button-like protrusion in the navel - this is not rare but is generally not very common either. If you have this feature and wish to get your navel pierced to accommodate a belly ring, it would most probably require a piercing to be done right through that button-like protrusion. If this is the case, expect the healing and piercing process to require a bit more attention. The most common positions for navel piercings are the upper lip or lower lip of the navel. In the image shown on this page, it would be referred to as an upper lip navel piercing.
It is generally advised to wear a belly ring immediately after or a couple of days after the piercing is done. It is important to understand that the material of this belly ring and also it's overall design and structure, would not be selected based on current trends and your preferences. Acrylic or medically safe alloys are recommended for such initial wear. If you get your navel piercing done at a professional place, you should be able to pick such a belly ring from that place - one that can be used right away or very soon. Once the healing process is complete get medical advise to confirm that, no complications would arise. And that is the moment that you had been waiting for, you can now pick the belly ring of your choice. Claddagh365 would be glad to craft a custom navel ring for you with your choice of design and gemstone, it surely goes without saying that we are not the only source for belly rings. So take a look, spend some time understanding various options and then make a purchase. Not all belly rings can be worn with all types of navel piercings, do not forget this in your excitement.
As you relish the feel and look of your belly ring collection, do not forget that cleanliness is next to godliness. It is necessary to clean your navel each time you bathe, you will also need to wash the belly ring and keep it clean. Most of us who are mature enough to get a navel piercing done, would know how to clean the navel as we bathe but, we might need help for the belly ring. So request for instructions from your belly ring provider regarding, the ideal way in which your belly ring should be cleaned. At Claddagh365 we would recommend, gold or platinum for the metal and gems that are not affected by water, bathing soap or most other household items. Some interesting gem options for your navel ring would be ruby, blue sapphire, pink sapphire, white sapphire, pink tourmaline, green tourmaline, aquamarine, diamond and spinel. This list is not exhaustive so it does not mean that, all gems not mentioned here are unsuitable for navel rings. You can request for advice from the Claddagh365 support team on issues related to the belly ring or gems in the jewel. Since you need not make any purchase to get the benefit of their expertise, there is little reason not to get in touch. More information on how to choose the place to have your navel pierced is available here.
Claddagh365: A great source for all fine custom jewelry requirements, you can pick a design from the website or send in your own design concepts. Gold, silver and platinum are the metal options and all metals get the same quality of gemstones, design and craftsmanship. Our direct connections with almost every gem mining source allows us to procure and custom cut just about any gem that you fancy. This obviously means that, you are not restricted by what you see on our website. Do get in touch the team at sales@claddagh365.com and get guidance on all issues related to gems and jewelry. And since you will never need to commit any purchases with us, there is no reason to ignore our expertise.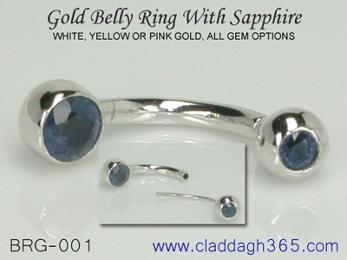 Claddagh365 belly rings can be custom made with your design and choice of gems. Our expertise in crafting fine jewelry will ensure that, your belly ring excels in terms of craftsmanship, design and comfort. While we will gladly work with your own designs, the BRG-001 offers a gorgeous 14k or 18k gold belly ring with sapphires or any other gem . You can choose yellow, white or rose gold for your belly piercing ring. The jewel has a streamlined concept, no sharp or pointed edges and no prongs to mount the gems. Learn more about this gorgeous ring or discuss your own ideas ... here.