Aquamarine Gemstones And Jewelry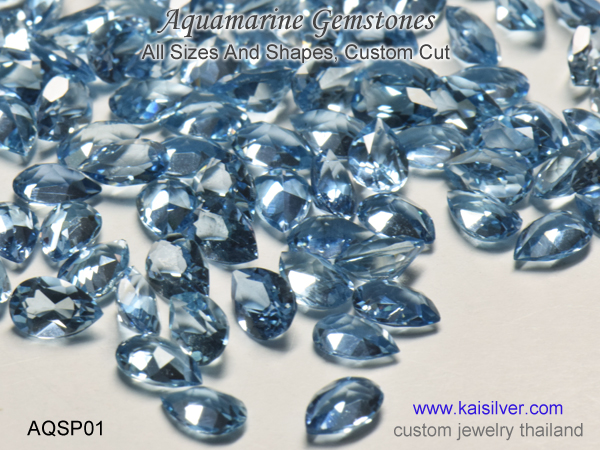 Aquamarine derives its name from two words 'aqua' and 'marine' which would translate into 'water from the oceans'. For blue gem lovers with a passion for pastel blues, aquamarine is never a disappointment. The belief that wearing an aquamarine gemstone jewel helps a person have a safe journey, has its origins in ancient folklore. Centuries ago sailors would often carry a piece of aquamarine with them, they strongly believed that the gem would keep them safer on the seas. Another piece of folklore with a similar theme was that, aquamarine had its properties enhanced when on the water. We live in a world ruled by science and technology today so, here are some technical facts about this gemstone. The mineral beryl, blesses us with some tremendous gemstones, aquamarine, emerald and morganite are all beryls. Aquamarine is strong and durable, wearing the gem does not require too much of fuss and caution. The gem has become far more expensive in the past decade or so, this is mainly to an increased demand from knowledgeable gem and jewelry enthusiasts. The opening up of the bridal jewelry sector to colored gemstones has further, emboldened aquamarine to climb up the price ladder.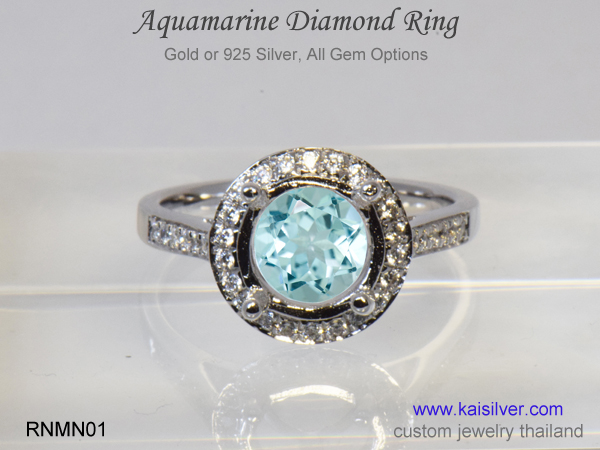 Kaisilver And Aquamarine: We procure rough aquamarine gems from various mines across the globe, this allows us to cover a wide range of prices. Keep in mind that natural aquamarine with good quality can never be cheap. Each gem is custom cut by our expert artisans, you can always request for a gem authentication certificate for the gem in your jewelry. We prefer not to sell loose gems, there are dozens of dealers offering that service but it does not interest us. You could pick any design from our online resources or send us your own design sketch, we can then craft that jewel in gold or silver with aquamarine or any other gem of your choice. Since we can custom cut even a single gemstone for your jewelry, there really is no need to limit your choice to any group of gems. Commercially you could grade aquamarine by color as follows, very pale blue (almost white), light blue with a clear shade of blue, medium blue with better saturation and top blue. The gemstone shown in the Kaisilver RNMN01 aquamarine diamond ring is a medium blue gem. You can specifically request for a top blue aquamarine gem when ordering your ring. Just remember that the price will reflect the gem color that you get. If you are on a moderate budget but still, dream of a better color aquamarine gem, our suggestion would be to give priority to color and be willing to accept a few inclusions (not cracks) in the gemstone. Read the RNMN01 Aquamarine Ring Report, and get full details including options and pricing for this amazing custom made ring.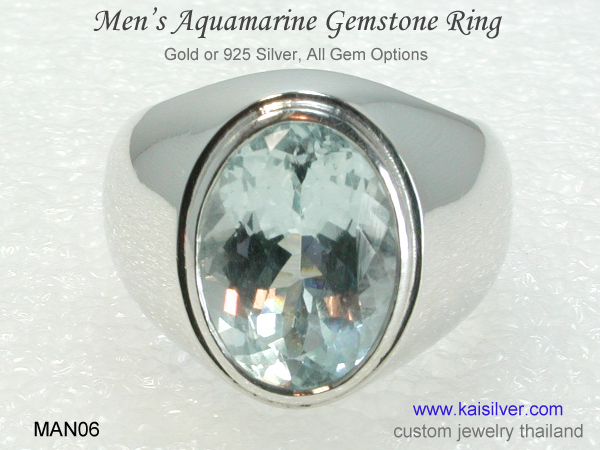 Aquamarine is a blue gemstone that looks awesome in jewelry for both men and women. If you are talking about a men's aquamarine ring, make sure that you strike the right balance between gem size, design concept and metal weight. Despite its calm and pastel color, aquamarine is far from fragile the gemstone packs an impressive degree of toughness. A men's aquamarine ring can be worn for both formal and informal occasions. The MAN06 Aquamarine Ring For Men from Kai Silver, has a design that will impress every man. You do not need to be an expert in style and fashion, to rate this as one of the best aquamarine rings that you will find. The large oval aquamarine gem in the center, is thoroughly inspected and tested before being cut and polished. The gold and silver men's aquamarine gemstone ring comes with a certificate of authenticity.
Kaisilver: We custom make all types of jewelry in gold or 925 silver. As the leading online provider of high end custom jewelry, we are honored to have over 7,000 discerning clients spread across more than a dozen nations. You could pick a design from any of our online resources or, send us your design images to be custom made. We place no restriction on design or gemstones. Get in touch with our professional experts at sales@kaisilver.com for any queries that you might have. We will be glad to advise and help without, pushing you to buy anything from us.