Custom Made Bracelets In Gold And Silver
A custom bracelet like any other custom made jewel, is supposed to include all your preferences and give you the bracelet of your dreams. But for to really happen, you will need to understand a few things related to custom jewelry. The information provided in this report is often illustrated with some gorgeous examples, read the details and try to apply it to your own requirements.
The Jeweler: Not every and any jeweler can do a perfect rendition of your custom bracelet, just like not all hair stylists can do a tremendous job. Spend sufficient time evaluating a custom jewelry provider, this is something that is as important as describing and checking the features of your bracelet. Rather than be a mere seller or factory, your jeweler should be willing and able to provide constructive advice and suggestions. Work with a custom jewelry provider who can give you a free hand in choosing the design, dimensions and gemstones for your custom made gold or 925 silver bracelet. It is important that the jeweler respects your choice of metal by providing a choice, of at least gold and sterling silver. The quality of gems and workmanship, should not depend on the value of the bracelet that you select or the metal that you choose. A good jeweler will devote the same attention and provide, the same quality standards for all custom made jewelry orders undertaken.
The Bracelet: While there will be some technical details and features in a custom bracelet that, are best decided and handled by a jewelry professional, your preferences and wishes should be accepted without too many limitations and constraints. The days when quality conscious jewelry lovers ignored silver as a metal option are long gone, the timeless beauty of silver has won the hearts of millions of discerning buyers today. At a time when big brand names are openly embracing low cost metals like stainless steel, choosing a gold or 925 silver bracelet to be custom made is a welcome thought. Insist on being able to choose the gems for your custom made bracelet, you should also be able to combine gemstones of your choice in a multi-gemstone bracelet. Besides choosing the gems, the dimensions and shape of the gemstones and the length of the bracelet should all be set by you. It would be much easier to explain this if we said that, the design for your made to order gold or sterling silver bracelet should be decided by you. You might choose to pick a ready made design or, request for changes from an existing design or even, send across your own concepts in the form of images or sketches.
Durability: This feature might not immediately strike a casual jewelry buyer but, it is the duty of the jeweler to educate you about the importance of long term durability. Ready made or mass produced jewelry needs to aim at a wide market, low cost is a big attraction - the toughness of the jewel, workmanship and gem quality are often compromised to attain low price points. On the other hand a custom bracelet that is being made just for you, need not appeal to anyone else. Good metal weight, superior design elements and skilled workmanship are all necessary to deliver a long lasting bracelet. This is precisely the reason why custom jewels are generally more expensive as compared to ready made or mass produced jewels. But get the right custom bracelet and years and decades from now, you will be glad that you took that decision. A quality custom made gold or 925 silver bracelet, will retain its shape and form for a very long time giving you years of wearing pleasure.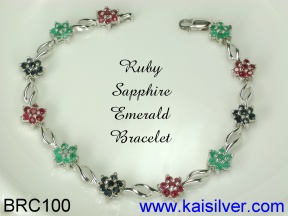 A gorgeous custom bracelet from Kai Silver in gold or 925 silver. The concept of limiting gem sizes while at the same time, creating an opulent and elegant looking jewel reveals the talent of a fine jewelry designer. You get to choose the metal for your custom made bracelet and also pick the gems of your choice ... more.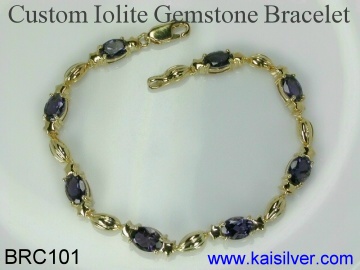 Custom made bracelet with your choice of gems and gem size but, 7x5mm oval gems seem to provide the optimum gem size to deliver a gorgeous made to order bracelet with just about any gem of your choice. Available in gold of 925 silver, you could also combine different gemstones ... more.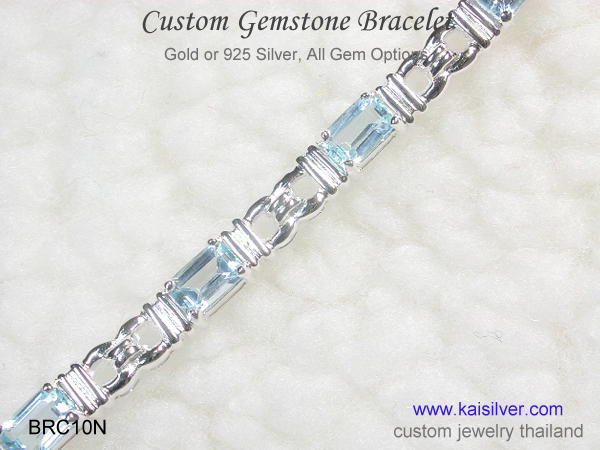 A stylish and long lasting, gold or silver bracelet with octagonal shaped gemstones. You could choose any gemstone of your choice or combine different colored gems in your custom bracelet. The bracelet has a good metal weight and this makes it sturdy, we have a full report on the BRC10N bracelet ... more.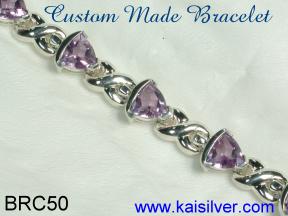 Suitable for all occasions this trillion gemstone bracelet is made to order in gold or 925 sterling silver. Options are available for 14k and 18k gold bracelets and you can request, for a plating to be done on your sterling silver custom bracelet. Skillfully crafted and built to be long lasting, you can also combine gems in the bracelet ... more.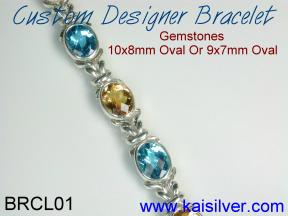 A bold statement custom made bracelet, flaunts large 9x7mm or 10x8mm oval gemstones. Hefty weight to ensure years and decades of gorgeous service to its owner. The large gems are firmly mounted with bezel setting, handpicked gems of your choice and all gemstone combinations are allowed ... more.