Custom Made Bracelets In Gold And Silver
A custom bracelet involves more aspects than, just the length of the bracelet. While it is possible to make an unique custom made bracelet, with a design and gems of your choice - customization of an existing bracelet can also give you significant control over the features of the bracelet. While Kaisilver in Thailand is not the only provider for a custom bracelet, it is a great idea to refer to Kaisilver quality parameters when looking for a custom bracelet with or without gemstones. Let us start bby saying that, a fine custom bracelet can be crafted in gold or sterling silver. There is no reason why a silver bracelet cannot be designed, configured and crafted to the same standards as a high end gold bracelet.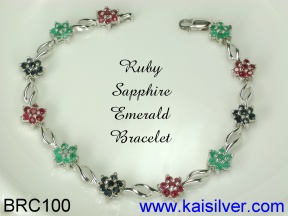 A gorgeous custom bracelet from Kai Silver in gold or 925 silver. The concept of limiting gem sizes while at the same time, creating an opulent and elegant looking jewel reveals the talent of a fine jewelry designer. You get to choose the metal for your custom made bracelet and also pick the gems of your choice ... more.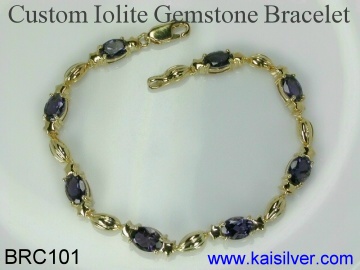 Custom made bracelet with your choice of gems and gem size but, 7x5mm oval gems seem to provide the optimum gem size to deliver a gorgeous made to order bracelet with just about any gem of your choice. Available in gold of 925 silver, you could also combine different gemstones ... more.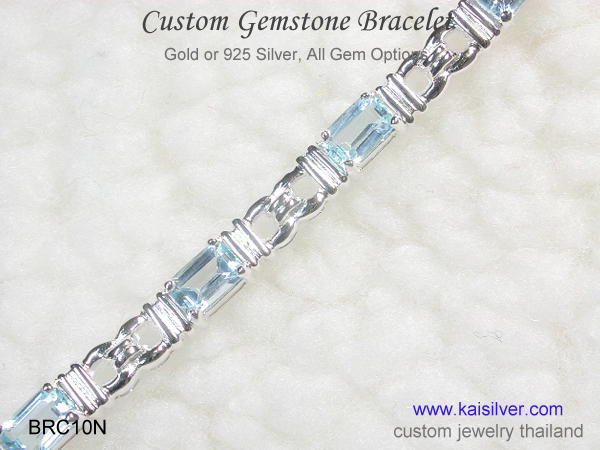 A stylish and long lasting, gold or silver bracelet with octagonal shaped gemstones. You could choose any gemstone of your choice or combine different colored gems in your custom bracelet. The bracelet has a good metal weight and this makes it sturdy, we have a full report on the BRC10N bracelet ... more.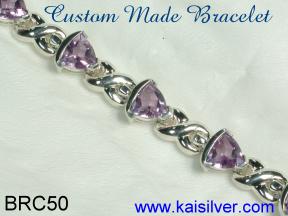 Suitable for all occasions this trillion gemstone bracelet is made to order in gold or 925 sterling silver. Options are available for 14k and 18k gold bracelets and you can request, for a plating to be done on your sterling silver custom bracelet. Skillfully crafted and built to be long lasting, you can also combine gems in the bracelet ... more.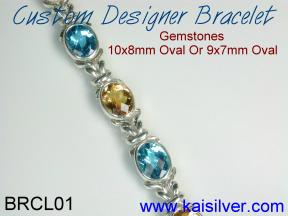 A bold statement custom made bracelet, flaunts large 9x7mm or 10x8mm oval gemstones. Hefty weight to ensure years and decades of gorgeous service to its owner. The large gems are firmly mounted with bezel setting, handpicked gems of your choice and all gemstone combinations are allowed ... more.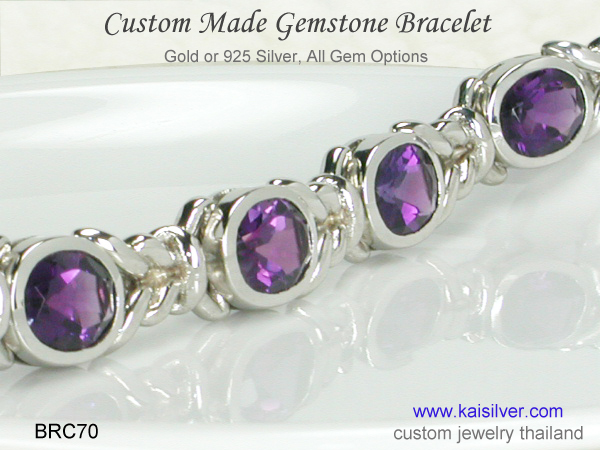 A gorgeous bracelet showcasing large gem sem size. Shown here as an amethyst bracelet, the BRC70 can be crafted in gold or 925 silver, with all gem options. A sturdy design and configuration and optimized metal (gold or silver) for this gem bracelet. You can combine different gem in a single bracelet. Check the full report ... more.
Few jewelers can match the quality standards of Kaisilver, when it comes to crafting custom bracelets or any other type of custom made jewelry. Crafted by a highly skilled team of gem cutters and jewelry artisans in Thailand, Kaisilver today serves over 12,000 style and quality conscious clients across 15 nations. Having said that, it is not possible for any jeweler to handle huge production volumes - if the focus is on high quality, finely crafted jewelry. You could therefore consider working with any jeweler when looking for, high quality custom jeweler but, keep Kaisilver standards in mind when evaluating your options.
A custom made bracelet can be crafted with or without gemstones, you could even decide to include diamonds as the main theme in your bracelet. It is also possible to create a bracelet design that includes just a dash of glittering diamonds while allowing, the sparkle and color of gemstones to take center stage. The concept of a true custom made bracelet, should allow you to get exactly what you want - as long as your budget can match your requirements.
We briefly highlight three important aspects of your custom bracelet purchase. Keep in mind that this information is valuable in the sense that, it would help you make more knowledgeable buying decisions irrespective of, where you decide to pick your custom made bracelet, or any other high quality custom jewel from. The experts at Kaisilver Thailand, have been kind information to summarize these three very important aspects.
The Jeweler: Not every and any jeweler can do a perfect rendition of your custom bracelet, just like not all hair stylists can do a tremendous job. Spend sufficient time evaluating a custom jewelry provider, this is something that is as important as describing and checking the features of your bracelet. Rather than be a mere seller or factory, your jeweler should be willing and able to provide constructive advice and suggestions. Work with a custom jewelry provider who can give you a free hand in choosing the design, dimensions and gemstones for your custom made gold or 925 silver bracelet. It is important that the jeweler respects your choice of metal by providing a choice, of at least gold and sterling silver. The quality of gems and workmanship, should not depend on the value of the bracelet that you select or the metal that you choose. A good jeweler will devote the same attention and provide, the same quality standards for all custom made jewelry orders undertaken.
The Bracelet: While there will be some technical details and features in a custom bracelet that, are best decided and handled by a jewelry professional, your preferences and wishes should be accepted without too many limitations and constraints. The days when quality conscious jewelry lovers ignored silver as a metal option are long gone, the timeless beauty of silver has won the hearts of millions of discerning buyers today. At a time when big brand names are openly embracing low cost metals like stainless steel, choosing a gold or 925 silver bracelet to be custom made is a welcome thought. Insist on being able to choose the gems for your custom made bracelet, you should also be able to combine gemstones of your choice in a multi-gemstone bracelet. Besides choosing the gems, the dimensions and shape of the gemstones and the length of the bracelet should all be set by you. It would be much easier to explain this if we said that, the design for your made to order gold or sterling silver bracelet should be decided by you. You might choose to pick a ready made design or, request for changes from an existing design or even, send across your own concepts in the form of images or sketches.
Durability: This feature might not immediately strike a casual jewelry buyer but, it is the duty of the jeweler to educate you about the importance of long term durability. Ready made or mass produced jewelry needs to aim at a wide market, low cost is a big attraction - the toughness of the jewel, workmanship and gem quality are often compromised to attain low price points. On the other hand a custom bracelet that is being made just for you, need not appeal to anyone else. Good metal weight, superior design elements and skilled workmanship are all necessary to deliver a long lasting bracelet. This is precisely the reason why custom jewels are generally more expensive as compared to ready made or mass produced jewels. But get the right custom bracelet and years and decades from now, you will be glad that you took that decision. A quality custom made gold or 925 silver bracelet, will retain its shape and form for a very long time giving you years of wearing pleasure.
GEMSTONES
A high proportion of bracelets are seen with gemstones, no surprise then that much of the beauty of a custom bracelet would come from the gemstones set in the piece. We are talking about natural bracelets, no man made substitutes or imitations. A truly custom made gemstone bracelet, should place no restrictions on your gem selection - unfortunately that is something that most jewelers are not equipped to offer. And that is another strong reason why, seasoned jewelry lovers choose Kaisilver for their gemstone jewelry requirements. When you order custom jewelry from Kaisilver, you are not confined to any type, shape or size of gemstones. Your preference, imagination and budget are what you will need to assess.
Most gemstone bracelets would be multiple gems, this makes it possible for you to pick different gemstones in the same custom bracelet. The BRCL01 bracelet shown above is a good example, the image shows this gorgeous gem bracelet, alternating with blue topaz and citrine. You could obviously pick different gems for your bracelet. The ruby, sapphire and emerald bracelet shown above is marked BRC100 - besides choosing your gem preference, it is also possible to have a glittering diamond at the center of each of those flower motifs. The BRC100 custom bracelet, has a classy design while maintaining modestly sized gems. This makes the bracelet more affordable, something that you could wear everyday to work.
When choosing a custom bracelet make sure that, you have maximum scope for customization. Most of us do not show for luxury items like jewels very often - it is important to invest in something that, we really like when we do decide to invest in jewelry. Take a good look at your current jewelry collection, consider going for a custom made bracelet that would, pair with something that you already have. Gemstone selection offers a nice way to express your mood and personality, colors and sparkles are what it is all about. If you plan to go for a gold or silver bracelet and a matching ring, plan your budget and do not he in a hurry to order. It might be a good idea to discuss your requirements with the experts at sales@kaisilver.com and get some suggestions and advice. Since you will never be under any obligation to place an order, it is always a good idea to seek advice from Kaisilver.
GOLD OR SILVER
Bracelets are fairly large in terms of length and metal content. It is therefore no secret that, the metal cost would be a significant portion of the price tag. This would be all the more true in case you choose to order a custom gold bracelet. Kaisilver is one of the very few high end custom jewelry providers, to maintain the same premium standards for gold and silver jewelry. If your design choice for a custom made bracelet is heavy like the BRCL01 or BRC70 shown above, pick sterling silver for the bracelet - if on a modest budget. The final choice is always yours.
One very important to keep in mind is that, a bracelet made with insufficient metal weight can get damaged easily, lead to loose gemstones and even break. This condition would require significant expenditure on repairs and replacements. Most jewelers will not tell you this but, it is always best to get it right the first time. This is another point that you could discuss with the Kaisilver expert team.
If you plan to have a custom gemstone bracelet in gold, pick from 10k, 14k or 18k gold. And in each of those gold specifications choose from white, yellow or pink gold. From our experience we would recommend 14k gold bracelets - if your choice is gold for the metal. This because 14k gold delivers the right balance between, metal hardness and gold content. Once again Kaisilver is fine with your choice, so pick what you prefer.
Being assured that a Kaisilver made to order bracelet, would have the same high standards if crafted in gold or silver - will help you make a stress free selection on the metal. There is no limitation on design or gemstones when you choose to order a custom silver bracelet - so make your selection. For a custom bracelet in silver, we would recommend no plating on the metal. This because any plating done on silver, wears off after a while. Keep this in mind but if you still prefer to have your silver bracelet plated, we will be glad to do so at no extra charge.
YOUR OWN DESIGN
You could get a custom made bracelet by picking, an existing design from Kaisilver websites and specifying the length, gemstones and metal (gold or silver, that you need. You could also have an exclusive bracelet finely handcrafted by top gem artisans at Kaisilver, based on your own design. It is possible to craft a custom made bracelet in gold or silver, with your choice of gemstones - with a design image or specifications detailed by you. This is something that Kaisilver is geared to handle because, every jewel that we craft is completely custom made and meticulously handcrafted by Thailand's top artisans. Send us your design concept, our experts will communicate with you and finalize specifications and pricing.
WHO IS KAISILVER
Serving over 12,000 jewelry lovers across 15 nations, Kaisilver is today one of the global leaders in high end custom made jewelry online. We work with a fine team of expert gem cutters, highly skilled jewelry artisans, the best designers and an inspiring team of production professionals in Thailand. We finely handcraft all types of jewelry including bracelets, rings, pendants, earrings and cufflinks - in gold or silver, with no limitation on gemstones or designs. The design can be selected from our websites or provided by you. Both gold and silver jewelry, are crafted to the same premium standards.
Networked to all leading gem mining and getting operations in the world, we have preferential access to over 200 million carats of gemstones. This is what allows us to place absolutely no restrictions on gem selection, for your custom made bracelet or any other jewel. Get in touch with our team of experts at sales@kaisilver.com for any questions related to gemstones and jewelry.
HOW TO ORDER
Each item shown on this webpage, has a link to the complete report. Review the information related to specifications, options and pricing. Email the team at sales@kaisilver.com before, making a buy decision, fine jewelry was never meant to be purchased in a hurry. Detail your requirements for design customization, choice of metal (gold or silver), choice of gemstones, modifications of design (if required) etc. You are also welcome to send in your own design ideas or images to be custom made. The next step would be to work with the team on payment options, production lead times etc.