Claddagh Wedding Ring Pair, Personalizing Your Ring
CUSTOM JEWELRY, YOUR CHOICE OF GEMS AND DESIGN - IN GOLD AND 925 SILVER
A wedding ring is a jewel with tremendous significance - the historic claddagh ring is widely considered to be one of the most, meaningful jewel in history. Young couples seek to add a personal touch to their wedding rings, this is often done by choosing a pair of wedding rings. In the case of such rings, the basic design concept of his and her wedding rings, is similar. Specific features in a pair of wedding rings could be different, as an example - the dimensions of the rings could differ, the metal (gold or silver) or the gold color, the gemstone etc - could also differ. So on one side we have the added significance of a pair of wedding rings and on the other, is the claddagh ring - a gorgeous ring that symbolizes love, togetherness and loyalty. Many knowledgeable jewelry lovers agree that, Kaisilver crafts the finest rendition of the four century old claddagh ring. This brings us to the choice a pair of claddagh wedding rings.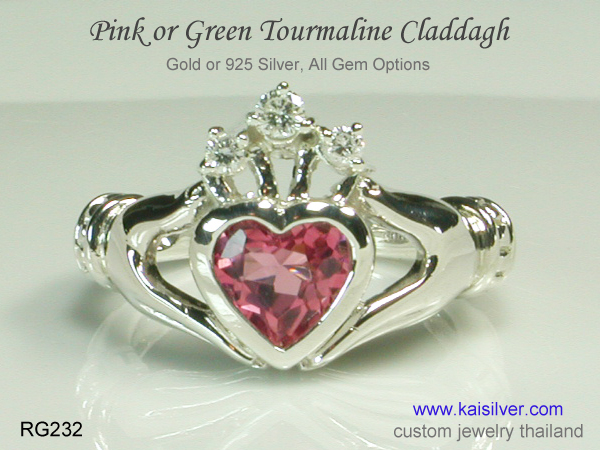 Pink, red and green are the gem colors that women love the most. A claddagh wedding ring could be ordered with a pink tourmaline or, with any gemstone of your choice. Men's claddagh wedding rings could be designed with or without any gemstone. If you choose to wear a pair of tourmaline wedding ring, his ring could be crafted with green or blue tourmaline. More details at ... more.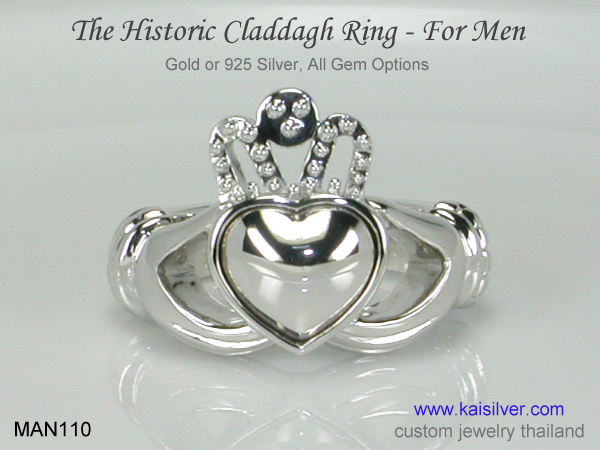 Since the meaning and significance of the claddagh ring remains the same, with or without a gemstone - men often choose to wear a men's claddagh ring with no gem. Besides being a bit more moderately priced, plain claddagh wedding rings are also easier to maintain. For a pair of claddagh wedding rings, it is perfect for her ring to have a gem and his ring to be plain ... more.
The Kaisilver Wedding Band Pair report, would give you a better understanding of wedding band pairs in general. The features of the claddagh ring would remain the same for a men's or woman's ring. The meaning of the jewel is held in the crown, heart and hands depicted on the jewel. The ring symbolizes love, loyalty and friendship and this remains the same for both rings. We do get requests for custom rings where, buyers request for the crown to be left out of the design etc. This is surely something that we can do but, remember that the complete meaning of the jewel requires that the crown, heart and hands be present in the ring. So you would ideally want your pair of wedding claddagh rings to retain these features. What can however vary is the overall dimensions of the two rings, you would expect the men's ring to be a bit larger and more imposing. At Kaisilver, the fingers depicted on the lady's ring, are also daintier and more feminine - this does not alter the meaning of the ring though. The Claddagh Story report, details the fascinating story of the claddagh ring.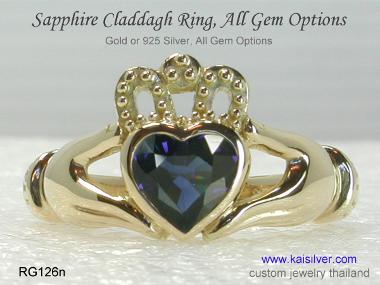 Sapphire one of the most sought after gemstones in history. Wedding and engagement rings are often ordered as with this amazing gemstone. If you wish to wear a pair of gemstone claddagh wedding rings, sapphire is a great choice. Though an expensive gem, sapphire has impressed both men and women. More details about the sapphire claddagh at ... more.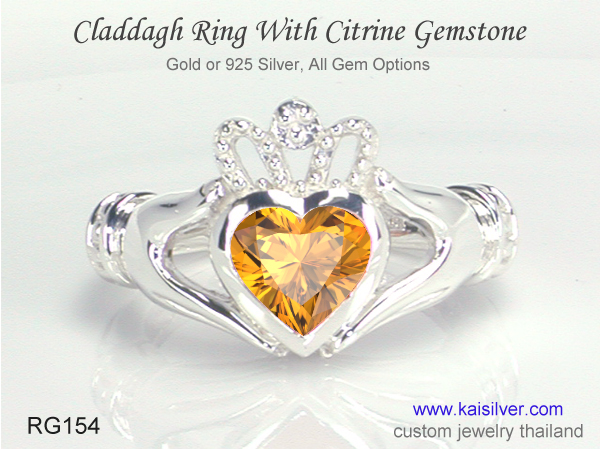 Symbolizing brightness and prosperity, citrine is gorgeous and surprisingly affordable - it also happens to be the November birthstone. Claddagh gemstone wedding rings with citrine, look awesome irrespective of the color of the metal. Kaisilver maintains the same superior standards for gold and silver claddagh rings. Learn more about the RG154 custom ring ... more.
If you would like to have more information on claddagh rings for men, check out the Kaisilver Men's Claddagh Wedding Ring report. We now talk about the metal for a pair of claddagh wedding rings, Kaisilver offers options for gold and silver - the same team of highly skilled artisans, works on both gold and silver jewelry orders. The metal for the claddagh wedding rings can also be customized to suit your preference. Men have always shown a preference for 925 silver and this, is something that you can choose when you order your men's ring. Gold and silver are the main metals requested by buyers. You can also request for a price quote with platinum as the metal of choice. Talking about silver wedding rings, we have seen a big surge in the demand for silver jewelry even for, formal jewels like engagement and wedding rings. Since the meaning and significance of your claddagh wedding ring pair, would be showcased in the features of the rings, a gold or silver ring would be equally good. The good thing about working with Claddagh365 for your rings is that, the gold, silver and platinum jewels have the same quality of craftsmanship and gemstones. If you opt for the gold claddagh wedding rings, you can choose from yellow, white or rose gold in 14k or 18k .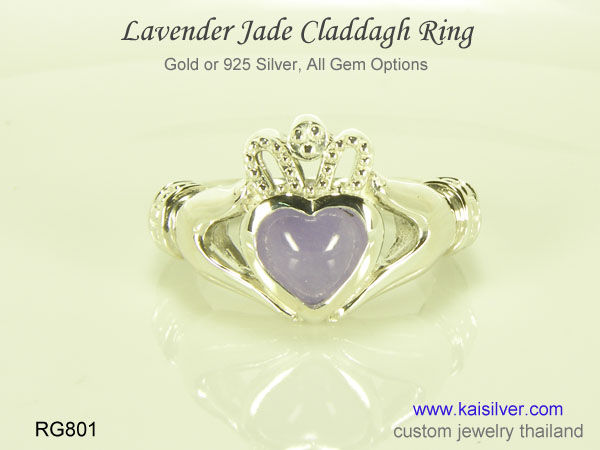 There is something very classic about jade - jadeite which is the preferred type of jade (nephrite is also jade), is found in a few colors. For a pair of jade wedding rings, you could pick lavender jade for her claddagh ring and green jade, for the men's wedding ring. Your choice of gem and metal (gold or silver) is not restricted, so visit this report on the RG801 claddagh ring ... more.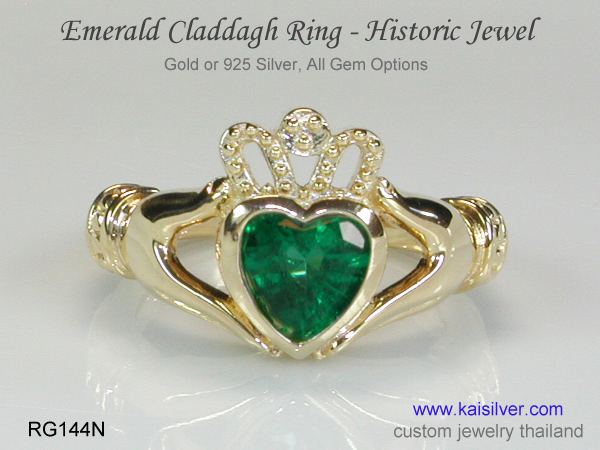 Emerald has always been highly desirable, the green precious gem was ones the reserve of aristocrats and royals. Emerald the May birthstone has a large following among both men and women. But if you prefer to review a wider selection of green gemstones for your claddagh wedding rings, you should check out the complete report on this topic, the Kaisilver report is at ... more.
Colored gemstones are being increasingly seen in wedding and engagement rings, brides want color and diamonds are proving to be 'not so necessary'. Express yourself through the selection of the gems for your claddagh wedding ring pair. Color is an important factor in the selection of gemstones and personal preferences can vary widely. Almost every color in the rainbow is represented by a gem and each of those colors, has a range of hues and shades to choose from. Traditional beliefs and folklore related to gems is often the motivation for selecting a specific gemstone. With no limitation on the gems that you can pick for your claddagh wedding rings, you are unlikely to have your desire unfulfilled. Birthstones have always been a favorite for wedding ring pairs and a more recent trend is the exchange of birthstones in the rings.
Wearing gemstones in wedding rings adds beauty and in many cases meaning, to the special jewel. And when that gemstone happens to be a birthstone, the wedding ring becomes even more special. Birthstones as we know them today are linked to the 12 months of the year, there was a time when the zodiac sign in which a person was born determined his or her birthstone. That each human being makes a special connection to one (or more) gems, is not a new belief - it has been believed for over a century. Wearing a birthstone is believed to bring good things and happenings to the wearer - a birthstone also plays a role in keeping a person safe and away from dangers of various types. So you could consider a pair of birthstone claddagh rings - gets even better if, you exchange birthstones in your wedding rings. The very popular Kaisilver birthstone chart, has been provided below this report.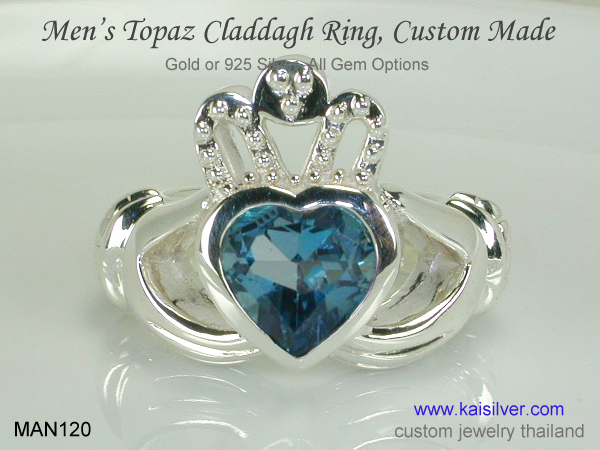 When you order a pair of claddagh rings, expect the men's claddagh ring to be larger and also not as dainty as, the women's ring. No doubt that men have a high preference for 925 silver when it comes to their rings and bracelets. While a men's silver ring would be more economical, Kaisilver provides options for gold and silver - we leave the final decision to you ... more.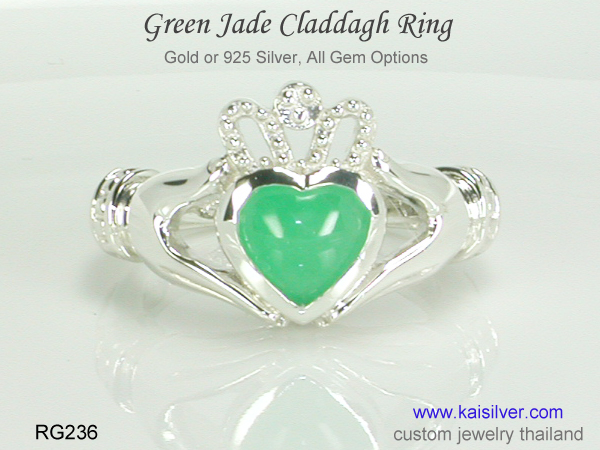 Jade a fascinating gemstone, a great option for wedding rings. While you could pick your choice of gemstones a claddagh ring pair, jade is one gem that looks good for 'his and her' rings. Kaisilver custom cuts natural jade from Burma, let us know if you need a higher quality jade and we will work on the details together. Read the full report on the RG236 jade claddagh ring ... more.
Let's talk about a pair of plain claddagh wedding rings, these jewels are crafted in metal and no gemstone. To begin with, these rings are perfect and lack no meaning or significance that was meant to be present in the claddagh ring. Interestingly the first claddagh ring made about four centuries ago did not have a gem! The Claddagh365 Claddagh Ring No Stone Collection, exhibits some gorgeous rings without a gemstone for ladies and men. Although the plain claddagh ring is more popular with men, there is a gorgeous design for ladies too. You might be pleased to know that a claddagh wedding ring with no gem, will be a lot easier to maintain and clean.
Etching a message or memorable date on the inside of your claddagh wedding rings, is a great way to wear a truly unique jewel. Names and nicknames, wedding dates, initials etc are some interesting ideas - choose something really personal even if it is understood only by the two of you. Make up your mind about what to etch the moment, you are ready to place the order for your claddagh wedding rings pair. This will allow sufficient time to accurately complete the job and also, do another course of polishing for the rings.
INTERESTING NOTES
While Kaisilver is surely not the only jeweler to craft claddagh rings, thousands of jewelry lovers proudly wear the Kaisilver claddagh ring, across 12 nations. A team of expert artisans, gem cutters and production experts in Thailand, work on all Kaisilver jewelry. We are indeed grateful to every single customer including, those wonderful people from Ireland who choose Kaisilver for their claddagh ring. This is indeed very interesting as the first claddagh ring, was made 4 centuries ago in Ireland!. The name 'Claddagh' comes from the name of a (then) small fishing village in Ireland - named Claddagh.
A team of Kaisilver experts spent several months in Ireland - this was close to 2 decades ago. Intense research conducted at public libraries and discussions with learned people in the country, enabled us to fully understand the history and tradition behind the spectacular claddagh ring. Inputs from that research, helped our design experts to finalize the specifications for the now famous, Kaisilver claddagh ring. The international recognition for the Kaisilver ring comes from the fact that, each claddagh ring that we craft retains all the essential design elements of the first ring made centuries ago. This while provide fine craftsmanship and an unrestricted choice of gemstones. Read more about the History Of The Claddagh Ring, to better understand and appreciate this awesome jewel.
An important note on the meaning and interpretation of the features of the claddagh ring. This is even more relevant as we talk about the suggestion to go for, a pair of claddagh wedding rings. The hands, crown and heart in the claddagh ring symbolize togetherness, loyalty and love respectively. The love as interpreted in this historic jewel, is not restricted to matrimonial relationships. A daughter could present a claddagh ring to her mother, parents could gift the claddagh ring to their children as a birthday gift etc. And you can surely buy a lovely custom claddagh ring for yourself.
We talked about including gemstones in your claddagh wedding ring and also mentioned birthstones. Gems add beauty and meaning to a jewel - no doubt about this. But the first claddagh ring did not have a gemstone, it appears from historic narrations that, the claddagh ring made by Robert Joyce was crafted entirely in gold. We should mention that adding a custom cut natural gem to your claddagh ring, does not alter the symbolism or meaning of the jewel in any way. Remember that the heart (love) the hands holding the heart (togetherness or friendship) and the crown (loyalty), give true meaning to this very meaningful ring. The heart shape in the center whether done in gold, silver, platinum or depicted by a heart shape gem - give the same meaning to that important feature. You can specify the gemstone for your claddagh rings or a pair of claddagh gemstone rings. While we would suggest that you go for a natural gem, we can accommodate requests for manmade (lab created, synthetic) gems too. Email our team at the email address provided below, to discuss your requirements.
HOW TO ORDER

If you wish to order a pair of claddagh rings or any other jewels from Kaisilver, we would encourage you to detail your requirements to our support experts at sales@kaisilver.com - each item on our websites has a unique item code, it is also likely to have a link to the complete report. Check options and pricing and contact us with any specific requirements or questions, that you might have. Besides accommodating all design modification requests, we can also craft a unique jewel for you - based on your own design concept. There is no restriction on design (yours or ours), metal (gold or silver) or gemstone - this applies to all Kaisilver custom made jewelry. In the case of the claddagh ring, we would suggest that you retain the main features which essentially, give the ring its true meaning.
WHO IS KAISILVER
For over 2 decades Kaisilver Thailand, has been serving high end jewelry lovers across 15 nations. Over 12,000 gem and jewelry lovers proudly wear a jewel expertly handcrafted by, dedicated artisans at Kaisilver. The only high end online custom jewelry provider to maintain, the same superior quality standards for gold and silver jewelry - Kaisilver places no limitation on design or gem selection. Networked to global gem mining and cutting operations, we have preferential access to over 200 million carats of gemstones. This ensures that you always get the best gem at each price point. With access to every gem on this planet, we are in a position to let you choose the gems of your choice - for your claddagh rings or any other jewel.
Any jewel on our website can be ordered in gold or silver, with your choice of gemstones. Since each piece is meticulously crafted by highly skilled artisans in Thailand - you can request for design changes, as per your preference. You could also send us your design concept or sketch, we will work together to finalize specifications and price. Get in touch with our experts at sales@kaisilver.com - for any questions or requirements that you might have. We will be glad to help without, pressurizing you to make a purchase.