Wear Jewelry At The Very End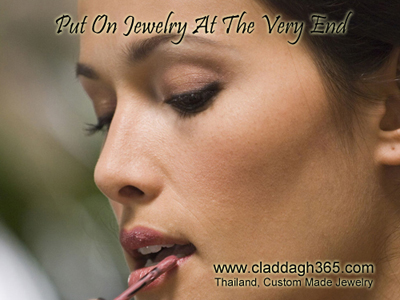 So you are getting ready for that party, have to look your best from head to toe. Pick the dress, then work on the shoe selection, then hop to the jewelry box and pick the best. And then you realize that the dress does not look good with the jewels that you just selected and so, you start the selection process all over again. As long as time is on your side, don't hurry or worry - just keep mixing and matching till you find yourself happy and content. By 'wear the jewelry at the end' we mean that, you should complete your dressing and make up activity before you reach for the jewelry. This might often seem like being too fussy but, there is good reason in this advice. Gemstones can often get affected by chemical ingredients present in cosmetics. Hair sprays, lipsticks, facial creams, perfumes, eye shadows and even powders and simple lotions are all loaded with chemical substances. Your jewelry does not enjoy those goodies, so keep the stuff away from your jewels and gems. When you put on a pair of earrings and then reach for the perfume spray, keep in mind that the fine mist generated by the spray will settle on the jewels. And these chemical residues can then scar or damage the gems or even dull the metal component in the jewelry.
The best way and time to wear your jewelry is after you have gone through the entire course of your makeup. Next wash your hands clean and make sure that no residue from the cosmetics is stuck on them. Dry your hands with a clean and dry cloth or tissue, this is better than staining the jewels with moisture and then trying to wipe that off the jewelry. Do not under any circumstances, expose jewelry to the air blast (hot or cold) that is generated by devices like hair dryers.
And now comes the end of an enjoyable party and you arrive home. Very few of us would rush to bed in a party dress and high heel shoes, so why should you end your day still wearing your jewelry. Let the jewelry be the first thing that comes off when you reach home, here is the right way to do it. Get home and wash and dry your hands, then carefully take off all your jewelry items. Equally important is where you store the jewels once they are taken off, not on the washroom basin and surely not in the soap dish near the bathing tub. Keep them safely in a well padded jewelry box.
Don't ever treat your jewelry based on the dollar value that you paid for them. You bought them and wore them because they make you look and feel good, so give them their due. And just because you might be adding new items to your jewelry collection does not mean that, you should neglect or mishandle the existing pieces, sounds stern but it is indeed very true.
Important: Lets end this brief report with a straightforward suggestion ... 'Let your jewelry be the last thing that you put on and the first thing that comes off !'.
Claddagh365: We craft fine jewelry in gold and sterling silver, you choose the design and gemstone for your favorite jewels. Widely respected as the best source for the 4 century old claddagh ring, we can make just about any jewel that you desire. High quality workmanship and handpicked gems are common to both gold and silver jewelry that we create. Contact our support experts at sales@claddagh365.com to discuss any queries or requirements that you might have. You can even send us sketches or images of your favorite designs to be custom made.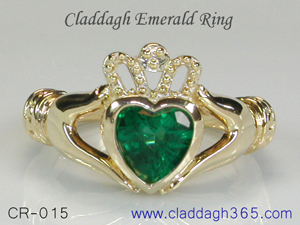 The centuries old claddagh ring crafted in gold or silver with gemstone of your choice. Most historians agree that the ring is one of the most meaningful jewels in history. shown here with an emerald gemstone. Learn more about this tremendous jewel here.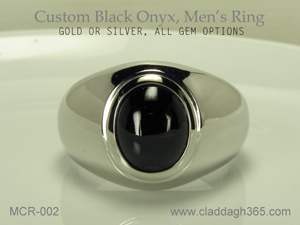 With emphasis on great looks and durability, our men's rings are crafted with intense care and attention. Healthy metal weight ensures that, your ring can keep up with your hectic lifestyle. Got complete information for this handsome onyx men's ring here.