Men's rings are generally designed with larger dimensions. Another element that could call for big rings is when, the ring (finger) size required is large. With a client base that includes members of the armed forces both past and present, Kaisilver does get requests for big rings. In general we could that a ring size exceeding US 10, would be referred to as a big ring. Men's rings in sizes that are as big as 12, 13, 14 and even 15+ are familiar to our designers and jewelry artisans.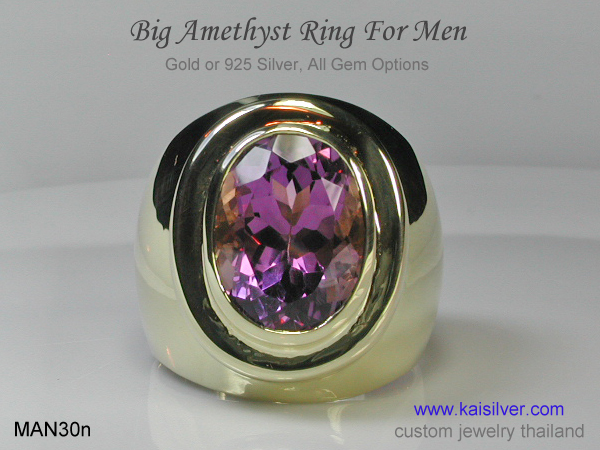 Custom made amethyst men's ring, can be crafted with a gem size ranging from 10x8mm to 14x10mm or larger. All gem options for this big ring in gold or silver, heavy and durable all ring sizes ... more.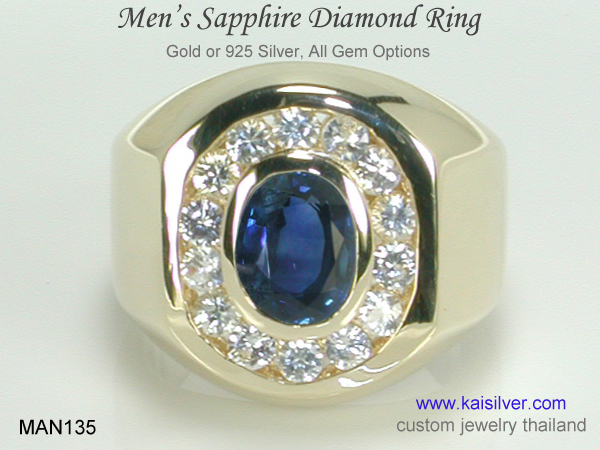 Good design for high priced gems like ruby, sapphire, emerald, tanzanite and spinel. A 9x7mm to 10x8mm gem with a row of diamonds or other gems - gives a big sturdy look to this men's ring ... more.
When a jewelry buyer thinks of a big ring, the first thing that comes to mind is the design and gemstone. While this is very logical the fact is that, many other features of the ring need to be considered before a decision can be made. One of these would be the choice of gold or silver for your men's ring. By maintaining the same premium standards men's big gold and silver rings, we at Kaisilver have left the decision making to you.
Before we talk a about picking a silver or gold big men's ring, let us address the issue of metal weight. You might have noticed that jewelers in recent years boast of one important achievement – they deliver a big bold look for their jewelry, at surprisingly low prices. Fall for this gimmick and your big ring would end up attracting some serious problems. The metal (gold or silver) weight for a big ring, should be optimized for the dimensions of the ring and this, includes the ring (finger) size.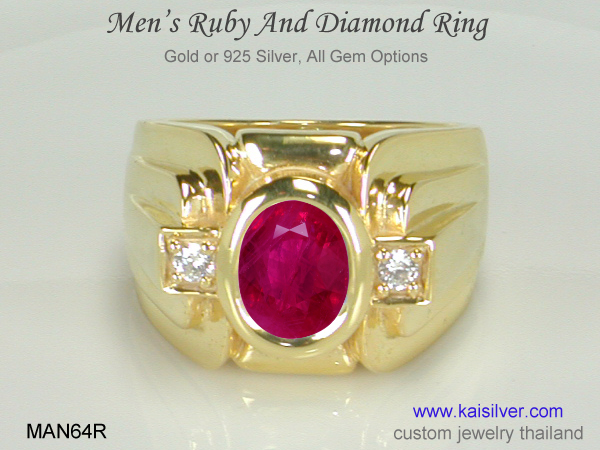 A tough ring with high metal (gold or silver) weight, custom made - all gem options and ring sizes. A gem size from 9x7mm to 11x9mm, finely handcrafted by Kaisilver Thailand, ruby diamond ring ... more.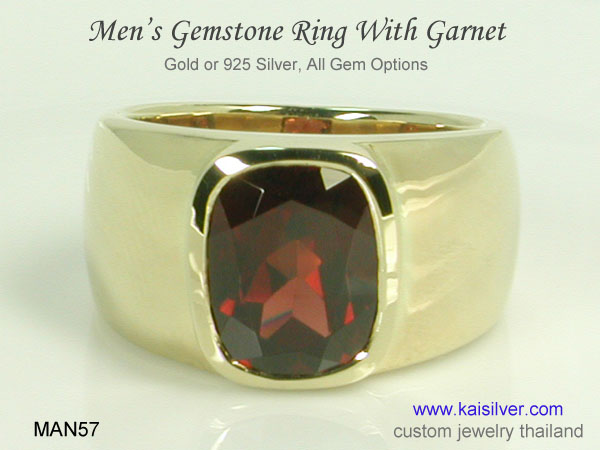 A best selling big ring for men from Kaisilver, also one of the most copied design in the jewelry industry. A gorgeous red garnet gem, can be replaced with the gem of your choice, all ring sizes ... more.
When you take a big design and make it with insufficient metal weight, the ring has thin sections. Just like a thin wall is more likely to crack – a big men's ring crafted with less than optimum metal weight, would bend or dent easily. Flimsy and light weight men's rings would also be less comfortable to wear. Kaisilver would in general, recommend that men's rings have a minimum metal weight of 20 to 25 grams. Further, big rings should have a weight of at least 25 to 30 grams, larger ring sizes might call for additional (metal weight) requirements.
So when we talk about higher metal weight, it is clear that the cost component of the metal on price tag would several times higher, in the case of a men's gold ring. A silver ring with similar design and gem as the gold ring, would be much more economical. As an example, if you had a 6 carat blue topaz men's ring and required a ring size of 13 – the optimum metal weight would be around 30 to 35 grams. If this was a gold ring, it would not be surprising to find the price tag going beyond many budgets. You could consider 10k gold or even sterling silver for such a ring.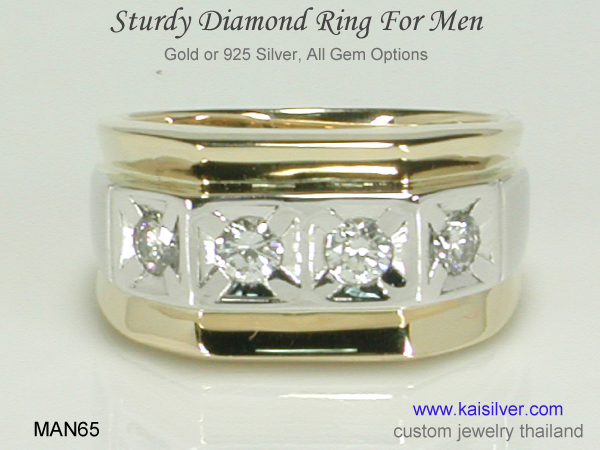 Available in single or two tone gold or in sterling silver, this big men's ring has a wide band and natural diamonds or other gems. Band width can be customized to suit your preference ... more.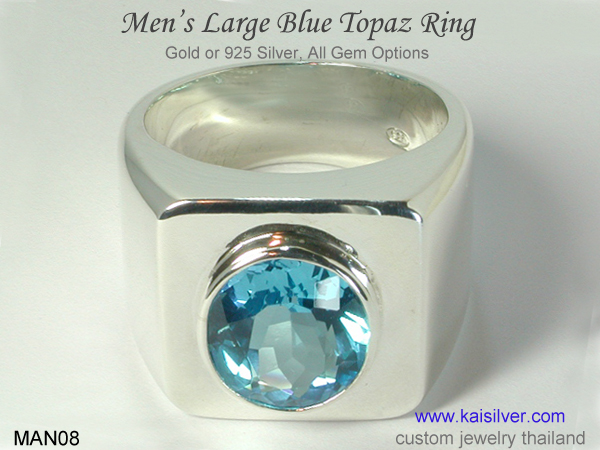 Shown as a big men's silver ring with blue topaz or any gemstone of your choice - custom ring for men can be ordered in gold or silver. Gem size can be customized to fit your requirements ... more.
The statement that we often make is that, do not buy a jewel that is light weight and flimsy. Repair and replacement costs in the near future, would outdo any savings that you make in the purchase price. Loose gems that could drop off are very often, the result of low metal weight and substandard workmanship. Consider these points when, you choose the metal for a big ring.
We now talk more specifically about a men's gold ring will, take up silver in subsequent paragraphs. When ordering a big gold ring from Kaisilver, you can make a choice of 10k, 14k or 18k gold. A brief explanation here about these gold options. Gold in its natural form is very soft and not suited to craft jewelry. The metal is alloyed along with other metals, to increase it hardness and this is how we get, 10k 14k and 18k gold. The 18k gold alloys contains the highest proportion of gold but is also, softer than 10k and 14k gold. On the other hand 10k gold offers the maximum hardness but, has a gold content that is below that of 14k and 18k gold. We normally recommend 14k gold rings as, this gold alloy has a right balance between gold content and metal hardness. You would notice that Kaisilver big rings are generally priced for 14k and 18k gold. Let us know if you prefer a 10k big ring and we will provide a price quote for the same.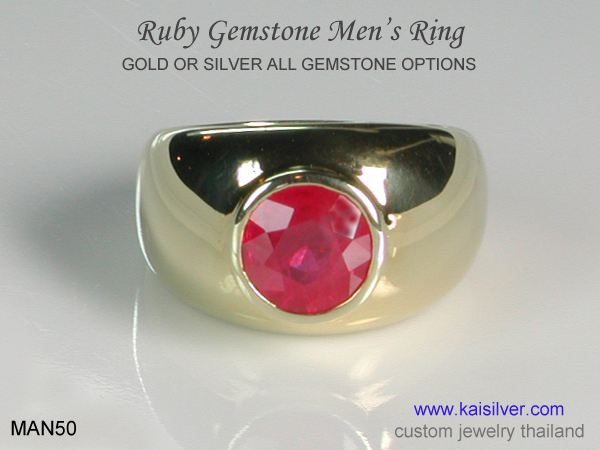 A premium ring with a big ruby gemstone, gem size 7mm to 8mm round - could be 9x7mm or 10x8mm oval. Can be crafted with any gem of your choice, dimensions can be customized ... more.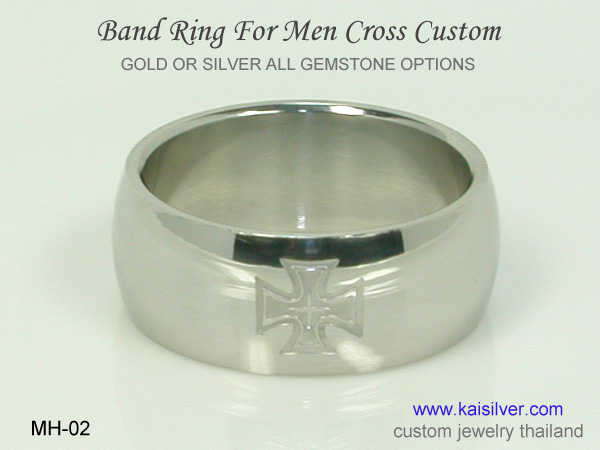 A big band ring with a broad band width. The ring has the cross etched in the front, you could leave the ring with no etching or request for another symbol, motif or initials to be etched in your ring ... more.
Still on the issue of big men's gold rings and now, a short note about gold color. There was a time when men would choose either silver or yellow gold, for their rings – this trend is no longer present. The launch of the first collection of high end rings for men, from Kaisilver more than a decade ago – attracted tremendous interest. The modern man is today more conscious, about the jewelry that they wear. When you order an 18k, 10k or 14k big ring for men from Kaisilver, make a choice of white, yellow or pink gold – we will leave that decision making to you.
And a last note on the choice of gold color or a big men's gold ring. There is a misconception that, white and/or rose gold are not as durable as yellow gold. If you go back to the paragraph where we introduced, 10k 14k and 18k gold, you would see that the reference made to gold alloy hardness, did not relate to the gold color. So yellow, white or pink gold would have the same hardness, when compared in the same gold allow standard. Which means that a men's big ring made in 14k gold, would have the same gold alloy hardness if ordered in any of the 3 gold colors mentioned.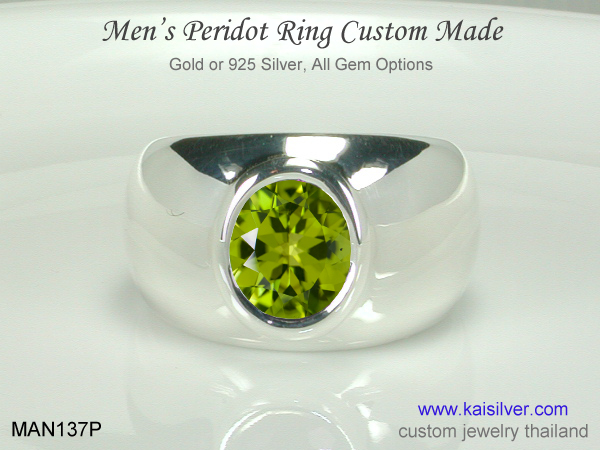 A classic men's ring with a big peridot gemstone. You can request for any gem of your choice in the 9x7mm to 12x10mm oval size for your men's big ring. Custom made in gold or 925 silver ... more.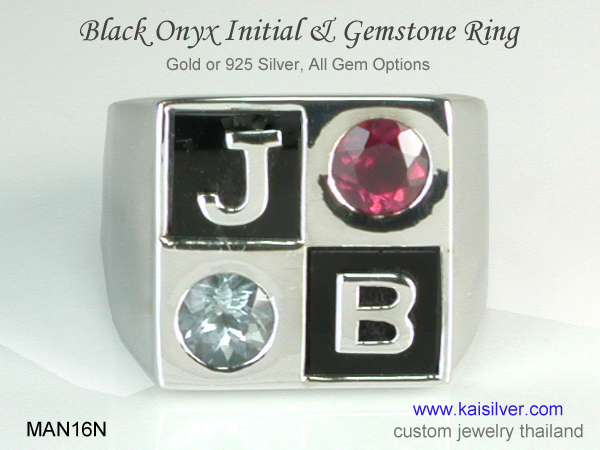 A handsome men's ring with the initials of your choice. You can also choose the gemstones of your choice. Heavy with a sturdy construction, awesome big ring for men in gold or 925 silver ... more.
Now presenting some information relevant to a big silver men's ring. We have already confirmed that the same premium standards, will be maintained for big men's rings ordered in gold or silver. If you wish to have a big silver ring, we would recommend that you do not ask for any plating to be done on the men's ring. This because any plating done on silver will wear off with time. All silver will tarnish after a while, plating will act as an anti-tarnish treatment only as long as, the plating does not wear off. Cleaning an un-plated sterling silver ring as it begins to tarnish, will be far easier than trying to clean and polish a plated silver ring with a plating that has started to wear off.
A short note on cleaning a big silver ring for men, the information would be relevant to all silver jewelry in general. The gemstone in a silver ring, needs to be considered when deciding on the cleaning process. While jewelry grade silver cleaning solutions and fabric, can be used to clean a silver ring – it is always a good idea to try and avoid these cleaning agents from coming into contact with the gemstone. At the end of the cleaning process, ring the silver ring in clean running water. This to ensure that the chemicals in the cleaning agent do not stay in contact with the gemstone. We will encourage you to contact our support experts, to get advice on this and other issues. The contact email address is provided at the bottom of this report. We will be glad to help even if, you have purchased nothing from us.
We hope that this report has been helpful to you, please share the link with your friends and acquaintances, if you feel that it would interest them.
WHO IS KAISILVER
With over 12,000 quality conscious clients spread across 12 nations, Kaisilver is widely regarded as the preferred source for online custom made jewelry. Working with a team of skilled and highly talented, jewelry artisans and gem experts – we craft all types of jewelry in gold and sterling silver. The same prime standards are maintained for gold and silver jewelry. Networked to leading gem mining and cutting operations in all gem mining nations, we have preferential access to over 200 million carats of gemstones. This explains why we place absolutely no restrictions on your choice of gemstones. The designs for all Kaisilver custom made jewelry including, big rings for men - can be yours or ours.
Contact us at sales@kaisilver.com if you require any information or advice related to gems and jewelry.
HOW TO ORDER
A short note on ordering big men's rings or any other custom made jewelry from Kaisilver Thailand. We ship across the globe and this is what has brought us over 12,000 clients across the globe. We encourage you to discuss your requirements with our experts at at sales@kaisilver.com do not be in a hurry to rush your purchase. Each item shown on this webpage has a unique item code and a link to a complete report - for that specific item. You can check options and other details in the detailed report - we will suggest that you provide details of the item that interests you, the gemstone that you prefer and your choice for gold or silver. All the design specifications of items shown on our websites can be modified, we can also craft a unique jewel for you with your own design concept. Our team will get back to you with ordering and payment information and answer any other questions that, you have have sent across them.
KAISILVER REVIEWS
The ring is absolutely beautiful, the ruby stunning. I was worried whether it would ever come, being delayed due to all the turmoil in Bangkok, but when it finally did, I was absolutely delighted. I've looked in many jewellery shops and haven't seen a ruby as nice yet. Thankyou, my girlfriend, now fiancé, absolutely loved it! The communication and customer service was really excellent as well, customising the ring went very smoothly, and the price was excellent for the quality. Regards ... John Williams ... more.